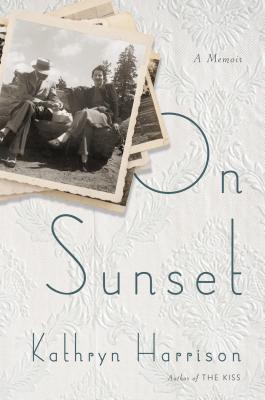 On Sunset
A Memoir
Hardcover

* Individual store prices may vary.
Other Editions of This Title:
Digital Audiobook (10/1/2018)
Paperback (9/3/2019)
Description
Born in Los Angeles at the dawn of the 1960s to parents who quickly departed, Kathryn Harrison was received by her maternal grandparents as a late-life child. Harry Jacobs and Margaret Sassoon, true wandering Jews, had emigrated to L.A. after leading whirlwind lives in Shanghai, London, Alaska, Russia, and beyond. Harrison grew up in their fading Tudor mansion on Sunset Boulevard, a kingdom inhabited by gleaming memories from their extraordinary past. Their photos, letters, and souvenirs sparked endless family stories that spanned cultures, dynasties, and continents—until declining finances forced them to sell the house in 1971, and night fell fast. Vivid and poignant, filled with the wisdom of retrospect and the wonder of childhood, On Sunset seeks to recover a foundational time in her life, affirming the power of storytelling and the endurance of memory.
Praise For On Sunset: A Memoir…
"A touching and at times jaw-dropping portrait of the maternal grandparents who raised [Harrison]... On Sunset – richly illustrated with photographs and personal documents – adds up to more than just sepia-toned nostalgia for a world on which the sun set long ago… It's an evocative record of unusual lives and loves that – disrupted by war and anti-Semitism – spanned continents and left their mark on subsequent generations."
—Heller McAlpin, The Washington Post 

"I regard The Kiss as one of the bravest and finest memoirs ever written. So a memoir from Kathryn Harrison is a Big Deal and her new one, On Sunset, is stunning. Harrison never protects herself as a memoirist, and her vulnerability, intelligence, insight, curiosity, emotional honesty, and breathtaking talent as a writer are just some of the reasons On Sunset is as excellent as it is. This is Kathryn Harrison in top form." 
—Augusten Burroughs 

"[On Sunset] is not just memoir, not just family history, not just a meditation on culture and class, but a mystery, too… And this time [Harrison] has written a story — many stories, many characters, and a heroine, too (herself, that is) — to live alongside those by authors who made all of us want more: Dickens, Barrie, C. S. Lewis. And Lewis Carroll, too, who, in this account, is one of her favorites… On Sunset is more than one thing: not simply nostalgic, but tinged with anticipated sorrow and grief. Harrison's touch is light (she's a gorgeous writer)… As wise and all-seeing as it turns out to be, [On Sunset] is also a mostly happy story... It will, as with the best, make you laugh and cry. And it will make you remember how it was to be a child."
—Dinah Lenney, Los Angeles Review of Books 

"Undeniably rich... Harrison is nothing if not a magnificent writer, and there is something deeply satisfying about her sentences. A kind of internal rhythm dictates, with utmost precision and nary a stray adjective. She has a knack for layering stacks of images, details and exact snapshots into place, separated by commas like beads strung into a kind of rhapsody. Each sequence is beautifully rendered... All memoirs are, by definition, collections of the past, but few interrogate it quite like Kathryn Harrison's On Sunset."
—Julia Wick, Los Angeles Times

"On Sunset is Harrison's gentlest inquiry into the particular foreign country that is her past…[It's] not, in the end, a story of loss… the glittering riches of Harrison's childhood [are] her most precious inheritance."
—Penelope Green, The New York Times Book Review

"Transfixing... Fairy-tale fascinating, profoundly revealing of cultural divisions, and brilliantly and wittily told... Harrison's entrancing look-back casts light on resonant swaths of history." 
—Donna Seaman, Booklist 

"Evocative and tender, this delightful memoir pairs the distant past with a safe and sacred time in the author's young life."
—Publishers Weekly 

"Blending family history and mythology, anecdotes and photographs, this book is not simply one woman's open love letter to two magnificently eccentric grandparents; it is also a testament to the enduring power of memory. A poignant and eloquent memoir."
—Kirkus Reviews


Doubleday, 9780385542678, 288pp.
Publication Date: October 2, 2018
About the Author
Kathryn Harrison has written the novels Thicker Than Water, Exposure, Poison, The Binding Chair, The Seal Wife, Envy, and Enchantments. Her autobiographical work includes The Kiss, Seeking Rapture, The Road to Santiago, The Mother Knot, and True Crimes. She has written two biographies, Saint Thérèse of Lisieux and Joan of Arc, and a book of true crime, While They Slept. She lives in Brooklyn with her husband, the novelist Colin Harrison.
or
Not Currently Available for Direct Purchase