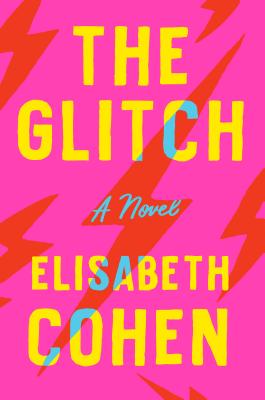 The Glitch
A Novel
Hardcover

* Individual store prices may vary.
Other Editions of This Title:
Digital Audiobook (5/21/2018)
Paperback (4/9/2019)
Description
A fast, funny, deeply hilarious debut--The Glitch is the story of a high-profile, TED-talking, power-posing Silicon Valley CEO and mother of two who has it all under control, until a woman claiming to be a younger version of herself appears, causing a major glitch in her over-scheduled, over-staffed, over-worked life.

Shelley Stone, wife, mother, and CEO of the tech company Conch, is committed to living her most efficient life. She takes her "me time" at 3:30 a.m. on the treadmill, power naps while waiting in line, schedules sex with her husband for when they are already changing clothes, and takes a men's multivitamin because she refuses to participate in her own oppression.

But when she meets a young woman also named Shelley Stone who has the same exact scar on her shoulder, Shelley has to wonder: Is she finally buckling under all the pressure? Completely original, brainy, and laugh-out-loud funny, The Glitch introduces one of the most memorable characters in recent fiction and offers a riotous look into work, marriage, and motherhood in our absurd world.
Praise For The Glitch: A Novel…
"An ambitious and entertaining novel that centers on Shelley Stone, the chief executive of a fictional company… Cohen is a shrewd writer."

—Stephanie Danler, The New York Times Book Review


"The Glitch takes a hard look at the definition of work-life balance. Through hilarious antics and sensational story lines, Elisabeth Cohen encourages readers to slow down, take a breath and consider the perspective of a younger you. Would that person think you are living your best life?"

—Lincee Ray, The Washington Post


"The Glitch is so many things—corporate satire, techno thriller, poignant family drama, and hilarious portrait of a woman on the edge."

—Eliza Kennedy, Entertainment Weekly


"Razor-sharp…a hilarious send-up of tech culture and the notion of women 'having it all.'"

—Mackenzie Dawson, The New York Post


"Elisabeth Cohen has given us one of the most unforgettable characters in recent fiction. Shelley Stone is a workaholic CEO who is 'leaning in' so far she might just be losing her mind. This debut is a smart and delirious ride through a world of TED Talks, tech startups and efficiency junkies. I tore through The Glitch with delight!"

—Jennifer Close, author of Girls in White Dresses and The Hopefuls 


"Sometimes you read a book because it sounds really good, but then it turns out to be way, way more strange, original and thrilling than even claimed, and that's what happened for me with Elisabeth Cohen's The Glitch."

—Elizabeth McKenzie, author of The Portable Veblen 

 
"Shelley Stone is a genius comic creation and her story—one where she's struck by lightning, drives a potentially haunted car, and meets her doppelganger—is as madcap as it is fabulously relatable. She's a spreadsheet-crunching, yoga-practicing, flexitarian CEO over-achiever who is so utterly hilarious I couldn't help but love her."

—Lucy Sykes, author of The Knockoff and Fitness Junkie 


"As an updated version of Allison Pearson's I Don't Know How She Does It for our hyperconnected tech age, this debut novel is funny and smart with an appealing, driven protagonist."

—Lynnanne Pearson, Library Journal


"[A] painfully funny satire of the tech industry. In Shelley Stone, Cohen has created an aggressively unlikable yet captivating and entertaining heroine… Clever, original, and unabashedly silly fun."
 
—Kirkus (Starred Review)


"An excellent send-up... Elisabeth Cohen's debut novel, The Glitch, does a marvelous job of questioning what women have to gain from the effort to 'lean in.'"

—The Rumpus 
Doubleday, 9780385542784, 368pp.
Publication Date: May 22, 2018
About the Author
ELISABETH COHEN majored in comparative literature at Princeton University and her work has appeared in Conjunctions, The Mississippi Review, The Cincinnati Review, McSweeney's Online and The Millions. She has an MA from the Johns Hopkins Writing Seminars and an MLS from the University of Maryland. She worked as a librarian before her current career as a technical writer. She lives outside Philadelphia with her husband and two sons.
or
Not Currently Available for Direct Purchase