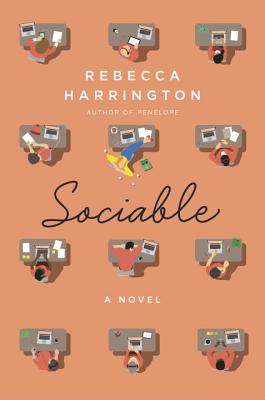 Sociable
A Novel
Hardcover

* Individual store prices may vary.
Other Editions of This Title:
Digital Audiobook (3/26/2018)
Paperback (2/5/2019)
Description
"Extremely funny." --Bethanne Patrick, The Washington Post

An exuberant comedy of manners set in the world of digital media, Sociable is a deliciously irreverent satire about the capriciousness of internet fame, the bewildering sexual mores of online dating, the preening male ego in the workplace, and about what it means to be young, broke, dumped, and scarily good at creating viral content.

When Elinor Tomlinson moved to New York with a degree in journalism she had visions of writing witty opinion pieces, marrying her journalist boyfriend, and attending glamorous parties with famously perverted writers. Instead, Elinor finds herself nannying for two small children who speak in short, high screams, sleeping on a foam pad in a weird apartment, and attending terrible parties with Harper's interns wearing shapeless smocks and clogs. So when Elinor is offered a job at Journalism.ly, the digital media brainchild of a Silicon Valley celebrity, she jumps at the chance. Sure, her boyfriend is writing long think pieces about the electoral college for a real website while Elinor writes lists about sneakers and people at parties give her pitying glances when she reveals her employer, but at Journalism.ly Elinor discovers her true gift: She has a preternatural ability for writing sharable content. She is an overnight viral sensation! But Elinor's success is not without cost. Elinor's boyfriend dumps her, two male colleagues insist on "mentoring" her, and a piece she writes about her personal life lands her on local television. Destitute, single, and consigned to move to a fifth-floor walkup, Elinor must ask herself: Is this the creative life she dreamed of? Can new love be found on Coffee Meets Bagel? And should she start wearing clogs? With wry humor and sharp intelligence that skewers everyone from grand dame newspaper columnists to content farm overlords to peacoat-wearing lit bros, Sociable is a hilarious tale of one young woman's search for happiness.
Praise For Sociable: A Novel…
"A delicious, sardonic send-up of Millennial romance and tech culture." —Marie Claire
 
"Illuminated against a hilarious and satirical backdrop, Harrington writes about navigating digital media in the workplace, handling a bad breakup (through equally worse online dating), and what feminist friendships look like after college." —Nylon

"Extremely funny… Harrington's novel starts out in the 'Go, girl!' vein but ultimately covers more difficult territory as Elinor negotiates the new world of content — and the content of her new world." —Bethanne Patrick, The Washington Post

"We first fell in love with Rebecca Harrington when she tried all the things for New York magazine (including Hillary Clinton's diet and electrocuting her face)... In Sociable, we get a taste of Rebecca's signature wit courtesy of main character Elinor Tomlinson, who shows up to New York City with journalistic aspirations, but has to work for a lousy old website (gasp!)." —Clever

"Anybody who's ever been young, heartbroken, overdrawn, or posted a regrettable Instagram photo—in other words, everyone, everywhere—should read this book. Rebecca Harrington demonstrates how painful it is for a millennial to be dragged, kicking and protesting, into adulthood, and then she makes you laugh. Sociable is a rare achievement." —Katherine Heiny, author of Standard Deviation

"With Sociable, Rebecca Harrington has given us a hilarious, charming, and spot-on satire of the Buzzfeed age. It's impossible not to root for Elinor as she navigates her way through work, love, and Instagram. I tore through this book in a single sitting, and so will you." —Grant Ginder, author of The People We Hate at the Wedding

"A comedy of manners about people who have none. Harrington skewers the world of Instagram contentment, listicle factories posing as news sites, and the joys of dating – both IRL and online. Hilarious and bold, Sociable is a perfect send-up of our social media obsessed culture." —Emily Culliton, author of The Misfortune of Marion Palm

"A young woman traverses her 20s and the toxic landscape of New York media in Harrington's novel of millennial manners… Harrington captures the oppressive narcissism and frustrated ambitions of Elinor's world with nauseating accuracy. Frothy on the surface with teeth underneath." —Kirkus 

"Harrington gleefully skewers digital media and postgraduate working blues with this dark satire of self-absorbed millennials trying to remake journalism and romance. [A] cyber coming-of-age tale... with shrewd observations and biting humor." –Publishers Weekly 

"Sociable is a too-real look at what it's like to work in digital media. Or really, to be a Millennial with a stronger grasp on what makes something go viral than being a 'real' adult. You'll read this painfully real, painfully funny book in one sitting." —Elizabeth Entenman, HelloGiggles
Doubleday, 9780385542821, 256pp.
Publication Date: March 27, 2018
About the Author
REBECCA HARRINGTON is the author of the novel Penelope and the comic essay collection I'll Have What She's Having. Her work has appeared in New York Magazine, The New York Times, Elle, NPR.com, and other publications. She lives in New York City.
or
Not Currently Available for Direct Purchase