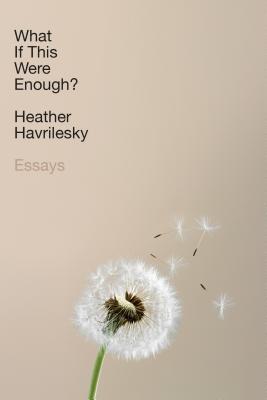 What If This Were Enough?
Essays
Hardcover

* Individual store prices may vary.
Other Editions of This Title:
Digital Audiobook (10/1/2018)
Paperback (10/8/2019)
Description
*A Publishers Weekly Best Book of 2018*
*A Bustle Best Nonfiction Book of 2018*
*One of Chicago Tribune's Favorite Books by Women in 2018*
*A Self Best Book of 2018 to Buy for the Bookworm in Your Life*

By the acclaimed critic, memoirist, and advice columnist behind the popular "Ask Polly," an impassioned collection tackling our obsession with self-improvement and urging readers to embrace the imperfections of the everyday

Heather Havrilesky's writing has been called "whip-smart and profanely funny" (Entertainment Weekly) and "required reading for all humans" (Celeste Ng). In her work for New York, The Baffler, The New York Times Magazine, and The Atlantic, as well as in "Ask Polly," her advice column for The Cut, she dispenses a singular, cutting wisdom--an ability to inspire, provoke, and put a name to our most insidious cultural delusions.

What If This Were Enough? is a mantra and a clarion call. In its chapters--many of them original to the book, others expanded from their initial publication--Havrilesky takes on those cultural forces that shape us. We've convinced ourselves, she says, that salvation can be delivered only in the form of new products, new technologies, new lifestyles. From the allure of materialism to our misunderstandings of romance and success, Havrilesky deconstructs some of the most poisonous and misleading messages we ingest today, all the while suggesting new ways to navigate our increasingly bewildering world.

Through her incisive and witty inquiries, Havrilesky urges us to reject the pursuit of a shiny, shallow future that will never come. These timely, provocative, and often hilarious essays suggest an embrace of the flawed, a connection with what already is, who we already are, what we already have. She asks us to consider: What if this were enough? Our salvation, Havrilesky says, can be found right here, right now, in this imperfect moment.
Praise For What If This Were Enough?: Essays…
"Wise, wry essays on the false promise of self-help, the emptiness of materialism, and the beauty of the 'imperfect moment.'"
—People

"What If This Were Enough? feels cathartic.... Havrilesky's book is hilarious and pulls no punches, and its cohesiveness feels fresh."
—Broadly
 
"A sharp, humorous, and heartfelt essay collection that explores our culture's obsession with self-improvement, perfection, and success, What If This Were Enough? asks readers to reconsider their endless quest for the coolest, the biggest, the shiniest new thing, and instead find happiness in what they already have."
—Bustle

 "The popular 'Ask Polly' columnist returns with a witty collection encouraging readers to embrace their imperfections and reject our culture's self-improvement obsession."
—Entertainment Weekly

"Deftly written…Havrilesky takes sharp and incisive stand against the never-ending quest for more and for better that inevitably leads many of us to feel restless angst."
—Real Simple

"Always briskly observant, and often mordantly funny…brimming with the author's warmly diagnostic and incisive voice, the pieces crystallize as potent blends of cultural critique, memoir, and anecdote, which take a scalpel to the inured surface of modern American life."
—The Millions 

"Insightful, intelligent, and with trademark honesty, the book (and Havrilesky through it) seems to want to grant us all permission to feel deserving of, and happy with, our lots in life."
—Guernica

"For the people who don't get to have their midnight crises answered personally, there is this book…[Havrilesky] has written a book of essays. But no book of essays has ever been so hellbent on making you feel better."
—Romper

"Think of Heather Havrilesky as your wisest girlfriend whose advice is never wrong. (Seriously, read her advice columns!) In this collection of essays, Havrilesky takes on our never-ending quests for self-improvement and will make you feel a hell of a lot better no matter your end goal."
—Cosmopolitan

"A soothing and much-needed reminder to tap out of the digital jealousy game and give ourselves and others TLC from the Cut's sanity-saving 'Ask Polly' columnist."
—Vulture

"In 19 wry, insightful and compassionate essays, Havrilesky peels back the layers of late-capitalism malaise that bind us to the promise of some better version of ourselves lurking just beyond our reach, and dares us instead to accept our current, flawed lives, suffering and all, in order to settle into a less anxious and resentful present."
—Salon 

"The essays in this collection are richly layered, emotionally evocative and often profoundly funny."
—The Michigan Daily

"Heather Havrilesky is a singular talent and an indomitable force. When it comes to the tension between thinking and feeling, of being out in the world and being alone with yourself, there is no one sharper, wiser, funnier, most honest, or more insightful. In What If This Were Enough, readers will find a splendid mix of Havrilesky's familiar and intimate 'Ask Polly' voice and the authority and erudition of a seasoned cultural critic. I couldn't get enough."
—Meghan Daum, author of The Unspeakable: And Other Subjects Of Disucssion

"There's an effortlessness to Heather Havrilesky's writing that is incredibly rare. Her funniest sentences are still empathetic. Her darkest confessions are still pretty funny. It doesn't seem to matter what she's writing about, or what point she's trying to make. She's just good at it."
—Chuck Klosterman, author of But What If We're Wrong? and Killing Yourself to Live

"Heather is that dear friend you run into at a bad party at which you're stuck and you say 'Oh thank God you're here' and spend the rest of the night making dark and hilarious jokes about the party, other attendees, and the human condition. Thank God she's here."
—Jake Tapper, author of The Hellfire Club and The Outpost

"[Havrilesky] wants Americans to 'wake up to the unbelievable gift of being alive,' even though it means facing... the scary emotions that are easier avoided. It's a message she relates with insight, wit, and terrific prose."
—Publishers Weekly (Starred Review)

"Provide[s] a crucial analytical perspective on human interactions…A fun, often insightful read."
—Kirkus Reviews 

"[I]n this quick-witted collection of essays, advice columnist Havrilesky pointedly asks whether it is possible to be satisfied without having everything our world of excess offers us…[T]here is always a sharp edge to her observations…[S]he presents some more personal stories about love and loss that tantalizingly offer a glimpse into a more grounded way of life, leavening the dark atmosphere with humor and hope."
—Booklist

"Thoughtful, direct, and often funny, these essays are a lovely blend of personal reflection and cultural critique."
—BookRiot

Doubleday, 9780385542883, 240pp.
Publication Date: October 2, 2018
About the Author
HEATHER HAVRILESKY is the author of How to Be a Person in the World and the memoir Disaster Preparedness. She writes the "Ask Polly" column for New York magazine, and has written for The New Yorker, The Atlantic, The New York Times Magazine, and NPR's All Things Considered, among others. She was Salon's TV critic for seven years. She lives in Los Angeles with her husband and a loud assortment of dependents, most of them nondeductible.
or
Not Currently Available for Direct Purchase