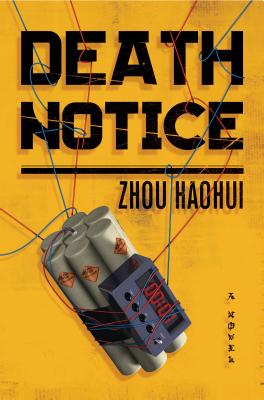 Death Notice
A Novel
Hardcover

* Individual store prices may vary.
Other Editions of This Title:
Digital Audiobook (6/4/2018)
Paperback (5/21/2019)
Description
"Fiendishly inventive." 
—The Wall Street Journal

Chengdu, China: The vibrant capital of Sichuan Province is suddenly held hostage when a shocking manifesto is released by an anonymous vigilante known as Eumenides. It is a bold declaration of war against a corrupt legal system, with Eumenides acting as judge and executioner. The public starts nominating potential targets, and before long hundreds of names are added to his kill list.

Eumenides's cunning game has only just begun. First, he publishes a "death notice," announcing his next target, the crimes for which the victim will be punished, and the date of the execution. The note is a deeply personal taunt to the police. Everyone knows who is going to die and when it's going to happen, but the police fail to stop the attack. The 4/18 Task Force, an elite group of detectives and specialists, is assembled to catch Eumenides before he strikes again. In the process, they discover alarming connections to an eighteen-year-old cold case, and they find out that some members of the team have much to hide.
Praise For Death Notice: A Novel…
"A perfect cat-and-mouse thriller where Eumenides, a vigilante, is toying with the police as he exacts revenge on those he feels need punishing. The stakes are always high involving at least one person's life as the police race to stop Eumenides's vengeance, but he's always a few steps ahead…The perfect balance of mystery, thriller, tension, and twists."
--BookRiot, "The Best 2018 Beach Reads"

"This procedural, the first novel in China's most popular suspense trilogy, boasts the rich cultural immersion, the bird's-eye view of procedural technique in an international police force, and the complex mysteries that have long driven the popularity of Scandinavian crime fiction."
--Booklist, starred review

"After an ending as satisfyingly twisty as a cursive ideogram, we are ditched on the mean streets of Chengdu, ready for the sequel."
--NPR.org

"An elaborately plotted thriller that explores the limitations of justice."
--Kirkus

"A sadistic murderer inspired by Greek mythology goes after a series of victims he believes to be deserving of their fate, for a plot that has enjoyed comparisons to that twisted classic of retribution, Se7en."
--10 Crime Books to Read in June, CrimeReads

"A word of warning, though: the book is a real page turner and the intricately woven plot and the suspense of the story makes it nigh on impossible to put down. Be prepared to lose hours of your day without realizing it."
--China Daily

"The cliff-hanger ending will leave readers shocked and clamoring for the next installment. VERDICT Recommended for hard-boiled crime fiction fans and anyone who enjoys a good mystery with an international flavor." 
--Library Journal

"A perfect cat-and-mouse thriller...The perfect balance of mystery, thriller, tension, and twists."
--BookRiot, "Diverse Mysteries and Thrillers" 

"Death Notice has a cinematic feel and a frenetic pace...it is pulsating, rollicking entertainment from a country that doesn't appear all that frequently in our geography of crime fiction."
--CrimeFictionLover.com

"Death Notice is a gritty, hard-hitting page turner set on the mean streets of a China you've never seen before.  A first rate tale of criminal intrigue right up there with the best of Michael Connelly and Jo Nesbo . . . but with a tang all its own. Highly recommended!"
--Christopher Reich, New York Times bestselling author of Rules of Deception

"A splendid hall of mirrors that lures you headlong down its twisting passageways with a bounty of literary trap doors, hidden stairways, and hairpin turns. You'll emerge breathless and eager for more."
—Dan Fesperman, author of Safe Houses

"Riveting and dynamic, Zhou's novel is also topical [and] Zac Haluza's translation is accessible and dynamic. It makes Chengdu society seem dynamic. Finally, the reader of DEATH NOTICE should prepare to be hooked."
--ReviewingTheEvidence.com

"This high-octane thriller blends a vibrant setting with a page-turning premise from one of China's most popular authors."
--B&N Reads: June's Best New Mysteries

"An elusive figure with a twisted sense of justice takes matters into his own hands in this gritty and agile thriller from China."
--Shelf Awareness



Doubleday, 9780385543323, 320pp.
Publication Date: June 5, 2018
About the Author
ZHOU HAOHUI is regarded as one of the top three suspense authors in China today. The Death Notice trilogy is China's bestselling work of suspense fiction to date. The online series based on these novels has received more than 2.4 billion views and achieved almost legendary status among Chinese online dramas. He lives in Yangzhou, in China's Jiangsu province.

Zac Haluza is a freelance translator and writer from the United States. He currently lives in Shanghai.
or
Not Currently Available for Direct Purchase