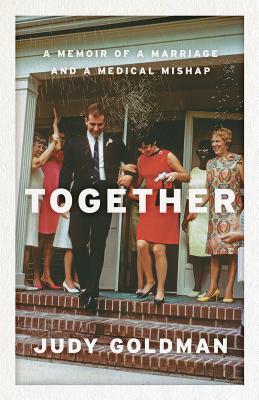 Together
A Memoir of a Marriage and a Medical Mishap
Hardcover

* Individual store prices may vary.
Other Editions of This Title:
Digital Audiobook (2/11/2019)
Paperback (1/21/2020)
Description
Novelist and poet Judy Goldman's inspiring account of the mishap that left her husband paralyzed, how it tested their marriage, and their struggle to regain their "normal" life.

When Judy Goldman's husband of almost four decades has a routine spinal injection to alleviate back pain, he is instantly paralyzed from the waist down—a phenomenon no doctor can explain or undo. She's forced to take over, navigating the byzantine medical world they suddenly find themselves in. Her husband is forced to give in. This is the starting point for Together, which looks at the changes every couple faces—the slow, ordinary ones brought about by time and the sudden, dramatic ones that take us by surprise. Identities shift; roles switch. How do we adjust?  How do we let go of the if-onlys? Together is a deeply honest story about the life we dream of and the life we make—an elegant and empathetic meditation on what happens to love, over time and all at once.
Praise For Together: A Memoir of a Marriage and a Medical Mishap…
"Together is a riveting account of a strong marriage tested when a routine medical procedure goes terribly wrong. Judy Goldman beautifully shows us the challenges and setbacks but also the triumphs as two people find strengths within themselves to create a new life together."
--Ron Rash, author the New York Times bestseller, Serena
 
"Part love story, part medical mystery, Together explores the rich terrain of a marriage during a period fraught with uncertainty and stress . . . a celebration of what truly matters in life: the power of love, the importance of forgiveness, and the necessity of accepting that some things remain unknowable."
--Christina Baker Kline, #1 New York Times bestselling author of Orphan Train and A Piece of the World
 
"Judy Goldman is that rare writer whose inward gaze forces her reader to gaze inward as well, revealing something both brutal and beautiful about the world in which we live. . . .I loved this book. I really loved this book."
--Wiley Cash, New York Times bestselling author of A Land More Kind Than Home and The Last Ballad

"In Together, Judy Goldman explores the many paths--both bumpy and blissful--that a happy marriage navigates over many years. Although a medical mishap sends Goldman on this exploration, ultimately she lays bare not illness but strength: strength of character and family and endurance and, mostly, love."
--Ann Hood, author of The Book That Matters Most
 
"Together . . . is part portrait of a 40-year marriage and part indictment of our medical system. Goldman's beautiful, deeply honest book is for anyone who has faced down change."
--Real Simple

"A funny and wise account of the bumps and curve balls of a long-term marriage; it's also an examination of the confounding labyrinth of America's medical system." 
--The Augusta Chronicle

"An insightful, at times harrowing, chronicle of the ups and downs of marriage, and the many roles we play in one another's lives."
--Library Journal, starred review

"Honest and compassionate, Goldman's book is a life-affirming story that celebrates the grit that goes into making a long-term marriage work. A moving portrait of 'young love turning into old love' in the face of unexpected life challenges." 
--Kirkus Reviews

"Goldman offers a tender view of her marriage and a suspenseful account of her husband's frustrating struggle to regain mobility . . . this loving tribute to her husband and to the solidness of their union will engage and inspire readers."
--Publishers Weekly

"Together is a story about love, provocation and the nuance of blame."
--Charlotte Magazine

"Together . . . is a book you'll read in one sitting. It's that compelling, that illuminating. It's a book that could make you see your own marriage in a whole new light."
--The Charlotte Observer

"With her journals in hand and her poet's eye, Goldman records the emotional and psychological weariness of prolonged illness. But, above all, this is an inspiring story of how life can change in an instant and how the power of love and the support of friends and family helps through unspeakable challenges." 
--Booklist

"It seems like the blueprint for a strong marriage. Goldman fights the good fight for her husband, and, in the process, discovers new facets of herself. This is the memoir's strength. At its heart, it's about a couple. Yet it's also about a woman who changes in order to be a better partner when calamity strikes."
--The Asheville Citizen-Times

"Somehow, Judy Goldman wrapped the story of a medical mistake into a beautiful memoir about her marriage and how love can change you . . . Finish the last few pages. Sit quietly for a while.  Let the wisdom wash over you."
--The Salisbury Post

"Together is a blueprint for coping with 'mishaps.' Goldman skillfully articulates the communality of human experience, and she's startlingly frank when relating the difficulties a patient advocate encounters. . . Together is about being married, about becoming a part of another person and building on the long-term relationship we enter into when we take our marriage vows."
--Salt

"Please read Judy Goldman's Together. This memoir is funny and heartbreaking. It's about a role-reversing love founded on grit and determination, true as a heart-aimed arrow."
--George Singleton, author of Staff Picks
 
"Goldman's Together is a beautiful, haunting portrayal of young love growing into old love despite the unexpected and stunningly swift changes life's inevitable forward momentum can bring. This exquisite memoir doesn't shy away from the hard truths of marriage; rather it confirms that marriage can mellow into something different, deeper, and far greater than young lovers ever imagine, despite crushing heartbreak along the journey."
--Michel Stone, author of Border Child
 
"Anyone who has found themselves unexpectedly immersed in a loved one's battle to survive with all its complications and trials will find Judy not just an engaging writer, but an indispensable companion in the struggle. Together touched me with its humanity and honesty."
--George Hodgman, author of Bettyville
 
"Deeply moving and poignant, delicate and powerful, Together is a memoir about love and loss, acceptance and resilience."
--Tova Mirvis, author of The Book of Separation
Nan A. Talese, 9780385543941, 288pp.
Publication Date: February 12, 2019
About the Author
JUDY GOLDMAN is the author of two memoirs, two novels, and two collections of poetry. Her work has appeared in USA Today, Washington Post, Real Simple, Literary Hub, Southern Review, Gettysburg Review, Kenyon Review, Crazyhorse, Ohio Review, Shenandoah, Prairie Schooner, and elsewhere. She received the Hobson Award for Distinguished Achievement in Arts and Letters, the Fortner Writer and Community Award for "outstanding generosity to other writers and the larger community," the Irene Blair Honeycutt Lifetime Achievement Award, and the Beverly D. Clark Author Award from Queens University.
or
Not Currently Available for Direct Purchase