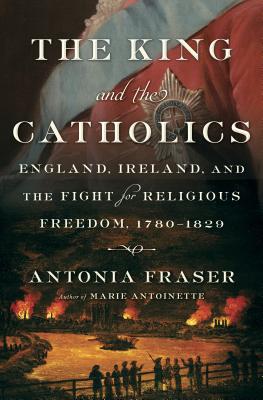 The King and the Catholics (Hardcover)
England, Ireland, and the Fight for Religious Freedom, 1780-1829
Nan A. Talese, 9780385544528, 336pp.
Publication Date: September 25, 2018
Other Editions of This Title:
Digital Audiobook (9/24/2018)
Paperback (11/12/2019)
* Individual store prices may vary.
Description
In the eighteenth century, the Catholics of England lacked many basic freedoms under the law: they could not serve in political office, buy or inherit land, or be married by the rites of their own religion. So virulent was the sentiment against Catholics that, in 1780, violent riots erupted in London—incited by the anti-Papist Lord George Gordon—in response to the Act for Relief that had been passed to loosen some of these restrictions.

The Gordon Riots marked a crucial turning point in the fight for Catholic emancipation. Over the next fifty years, factions battled to reform the laws of the land. Kings George III and George IV refused to address the "Catholic Question," even when pressed by their prime ministers. But in 1829, through the dogged work of charismatic Irish lawyer Daniel O'Connell and the support of the great Duke of Wellington, the watershed Roman Catholic Relief Act finally passed, opening the door to the radical transformation of the Victorian age. Gripping, spirited, and incisive, The King and the Catholics is character-driven narrative history at its best, reflecting the dire consequences of state-sanctioned oppression—and showing how sustained political action can triumph over injustice.
About the Author
Antonia Fraser is the author of many internationally bestselling historical works, including Love and Louis XIV, Mary Queen of Scots, and Marie Antoinette, which was made into a film by Sofia Coppola. She is also the author of two memoirs, Must You Go? and My History. She has received the Wolfson History Prize, the 2000 Norton Medlicott Medal from Britain's Historical Association, and the Enid McLeod Franco-British Society Literary Prize. Fraser was made a Dame for services to literature in 2011.
Praise For The King and the Catholics: England, Ireland, and the Fight for Religious Freedom, 1780-1829…
"A lively account . . . Fraser writes with verve and lightness of touch, even when dealing with intractable political argument. Readers unfamiliar with the intricacies of Regency politics will learn much from her spirited retelling."
—Eamon Duffy, Wall Street Journal

"When Amazon Prime finally starts delivering to heaven, Evelyn Waugh should order a copy of Antonia Fraser's new book, The King and the Catholics. Fraser's latest considers a topic close to Waugh's tart heart: bleak Roman Catholic prospects in aggressively Anglican England. The reference to religious freedom in the book's subtitle suggests why more earthly readers would find the book of interest, but, refreshingly, Fraser makes no effort to convince us that a centuries-old story of religious and political conflicts and competing minority rights remains relevant. Such confidence is rare today . . . Fraser trusts that we can make the germane connections . . . A convincing and worthy addition to the already impressive Fraser corpus."
—Randy Boyagoda, New York Times Book Review

"[A] splendid account of the struggle for Catholic emancipation . . . Fraser knows better than anybody how to make political and religious history fun . . . Her tale flows with such elegance and enthusiasm that you barely stop to notice just how skillfully she does it."
—Dominic Sandbrook, The Sunday Times (London)
 
"Fraser tells her story with erudition, sprezzatura, and a tremendous sense of fun. Every page is shot through with humour and humanity. Columns of bloated, bewhiskered bigots fall to Fraser's skewer . . . She writes beautifully and she includes just the right amount of smut."
—Jessie Childs, The Guardian

"Triumphant . . . [The King and the Catholics] explains, without ever obviously seeming to do so, how implacable prejudices and intractable issues can be tackled and overcome. In other words, it is that rarest of things: a good news story."
—Peter Stanford, The Sunday Telegraph
 
"This is an absolutely splendid book. With the brio and narrative skill which has been in evidence since her first book—the irreplaceable classic biography of Mary Queen of Scots—Fraser gives us a vivid account of Catholic Emancipation. Some of the most dramatic scenes in our parliamentary history are here brought to life with unmatched verve."
—A. N. Wilson, The Spectator
 
"Fraser's prose is a pleasure to read . . . her book is the ideal introduction to the subject."
—Christopher Howse, The Telegraph

"A brisk popular history of the fight for Catholic emancipation in England and Ireland . . . which entertains with fine descriptions of London's heated political and religious climate."
—Publishers Weekly, starred review

"A gripping telling of the struggle for Catho­lic rights in England and Ireland that is still relevant and will appeal to all who appreciate a good story about the fight for justice."
—Library Journal

"As she has accomplished with so much modern British history, Fraser makes the story of the Catholic Question's resolution riveting."
—Booklist