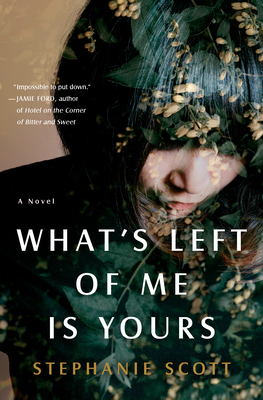 What's Left of Me Is Yours
A Novel
Hardcover

* Individual store prices may vary.
Other Editions of This Title:
Digital Audiobook (6/22/2020)
Paperback (6/22/2021)
Description
"Each chapter of this enrapturing novel is elegantly brief and charged with barely contained emotion." --New York Times Book Review

A gripping debut set in modern-day Tokyo and inspired by a true crime, for readers of Everything I Never Told You and The Perfect Nanny, What's Left of Me Is Yours charts a young woman's search for the truth about her mother's life--and her murder.

In Japan, a covert industry has grown up around the "wakaresaseya" (literally "breaker-upper"), a person hired by one spouse to seduce the other in order to gain the advantage in divorce proceedings. When Satō hires Kaitarō, a wakaresaseya agent, to have an affair with his wife, Rina, he assumes it will be an easy case. But Satō has never truly understood Rina or her desires and Kaitarō's job is to do exactly that--until he does it too well. While Rina remains ignorant of the circumstances that brought them together, she and Kaitarō fall in a desperate, singular love, setting in motion a series of violent acts that will forever haunt her daughter's life.

Told from alternating points of view and across the breathtaking landscapes of Japan, Stephanie Scott exquisitely renders the affair and its intricate repercussions. As Rina's daughter, Sumiko, fills in the gaps of her mother's story and her own memory, Scott probes the thorny psychological and moral grounds of the actions we take in the name of love, asking where we draw the line between passion and possession.
Praise For What's Left of Me Is Yours: A Novel…
"Scott deftly exposes how life-limiting even the most well-intentioned lies can be, especially for women in a society that remains as patriarchal as Japan's. . . For the outsider, What's Left of Me Is Yours is an extraordinary window onto [Japanese] culture. . . Each chapter of this enrapturing novel is elegantly brief and charged with barely contained emotion. Yet Scott's subject remains vast: the idea that the law itself does not protect the innocent, and 'that what matters most is knowledge – of ourselves and others.'"—NEW YORK TIMES BOOK REVIEW

"Mesmerizing"—LOS ANGELES TIMES

"Fascinating...The world [Scott] creates in What's Left of Me Is Yours feels very sure under foot: deeply researched, but delicately described... She braids her different characters' timelines together with sophistication, her storytelling harmoniously well-constructed. The big questions over whether it's better to lie or to tell a difficult truth, and what might constitute a betrayal, are layered across generations and decades and there is strength in the subtlety with which Scott slowly unpacks them."—THE GUARDIAN

"Beautiful. I loved it!"—Lisa See, bestselling author of THE ISLAND OF SEA WOMEN

"Remember that new-discovery, time-stopping, every-moment-is-magical kind of love? That's what it felt like to read this novel. Then limerence turns to passion which leads to tragedy and suddenly this book is impossible to put down as you speed toward a conclusion that is as surprising as it is satisfying."—JAMIE FORD, bestselling author of HOTEL ON THE CORNER OF BITTER AND SWEET

"Scott deftly spins a web through modern day Tokyo in this captivating dual-perspective rendering of a young woman determined to find out the truth behind her mother's murder."—NEWSWEEK

"Scott poignantly evokes both a mother trapped by the choices made for her and a daughter learning to deal with her own precarious freedom. She clearly defines the unfortunate effects of the traditional Japanese legal system on women, and with carefully accumulated details describes a Japan both physically and psychologically teetering on the edge of change."—BOOKLIST

"[An] intense debut. . . Exhilarating. . . Byzantine subplots, distinctive characters, and atmospheric settings will leave readers spellbound."—PUBLISHERS WEEKLY

"An unusual and stylish story of love and murder..."—KIRKUS REVIEW

"A gripping and instantly compelling story about love and loss and how they shape our lives.... This is a cleverly constructed, shrewd and beautiful novel with as much tension as heart, and plenty of worthy conversation starters about passion, deception and memory."—BOOKREPORTER.COM

"A simmering tale of passion and murder set in the murky world of the wakaresaseya: agents hired to break up marriages. . . A tender, literary love story [mixed] with a meticulously researched police procedural. . . A strong message of hope and self-realization from an unusually intelligent whodunnit."—ASIAN REVIEW OF BOOKS
 
"Scott delivers a delicately nuanced account of a complex tragedy rooted in the clash between illicit desire and the obligations of duty."—IRISH TIMES
 
"This incredible debut is one you'll be pressing into the hands of others... it's an exquisite read."—WOMAN'S WEEKLY
 
"The wealth of detail about life in Japan is truly fascinating... you'll have the heart rate of an Olympic hurdler."—SUNDAY EXPRESS
  
"At once luminous and captivating, What's Left of Me is Yours is the best kind of fiction: it tells a truth. All the easy lies about love fall away, as Stephanie Scott explores its often bitter, twisting, aching core. This is a brilliant, haunting book."
—Rene Denfeld, bestselling author of THE CHILD FINDER and THE BUTTERFLY GIRL

"Beautifully written, atmospheric, and immersive, Stephanie Scott's What's Left of Me Is Yours tells a propulsive story about heartbreak and loss and the greatest mystery of all, family."
—Laurie Frankel, bestselling author of THIS IS HOW IT ALWAYS IS

"I loved it. Gripping, heartbreaking, immersive. I read it with my heart in my throat."
—Sara Collins, author of THE CONFESSIONS OF FRANNIE LANGTON

"This novel is a masterpiece. In What's Left Of Me Is Yours, Scott has delivered a breathtakingly original and haunting concept in the most exquisite prose. I never wanted it to end."
—Lesley Kara, bestselling author of THE RUMOR
 
"Exquisitely written and beautifully told, What's Left of Me Is Yours is a sensory journey to Japan and the darkest places of the heart. This is the story of the enduring bond between mothers and daughters, and the thin line that separates love and obsession."
—Karen White, bestselling author of ALL THE WAYS WE SAID GOODBYE

"A gripping legal thriller that digs deep into the complications of human emotion. A daughter's quest for truth probes the delicate intersection of trust and betrayal, passion and loyalty, justice and compassion."
—Lynn Kutsukake, author of THE TRANSLATION OF LOVE
 
"A beautiful, beautiful book that defies genre - and my words... This is truly an epic, meticulously and lovingly researched, with such exquisite description and detail that I read the same lines over, many times…I will not forget this book for a long time."
—Louise Beech, bestselling author of HOW TO BE BRAVE
 
"Stephanie Scott's debut novel is poignant, brave, and compelling; it will stay with me for a very long time."
—Clarissa Goenawan, author of RAINBIRDS

"With painterly care, Stephanie Scott shows us a tempestuous side of Japan unfamiliar to most. What's Left of Me is Yours is a virtuoso's debut."
- Jing-Jing Lee, author of HOW WE DISAPPEARED

"A brilliant debut."
—Louise Doughty, author of PLATFORM SEVEN and APPLE TREE YARD

"Stephanie Scott's story of a woman's murder sweeps the reader into a world in which love is fused with betrayal and truth is locked away. Beautiful, delicate and brutal, What's Left Of Me Is Yours, is difficult to put down, impossible to forget."
—Marti Leimbach, bestselling author of DYING YOUNG and DANIEL ISN'T TALKING


Doubleday, 9780385544702, 352pp.
Publication Date: June 23, 2020
About the Author
Stephanie Scott is a Singaporean and British writer who was born and raised in South East Asia. She read English Literature at York and Cambridge and holds an M.St in Creative Writing from Oxford. Scott was awarded a BAJS Toshiba Studentship for her anthropological work on her novel What's Left of Me Is Yours and has been made a member of the British Japanese Law Association as a result of her research. What's Left of Me Is Yours was named a Brooklyn Book Festival Debut of the Year and a Guardian / Observer Best Debut of 2020. She is based in Singapore and London.