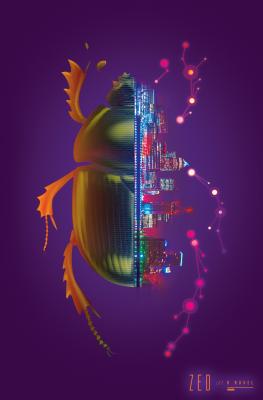 Zed
A Novel
Hardcover

* Individual store prices may vary.
Other Editions of This Title:
Paperback (12/8/2020)
Library Binding, Large Print (4/29/2020)
Description
"[An] insightful, unsettling look at how technology impacts our lives. . .Kavenna has skillfully made our present feel like dystopian fiction." USA TODAY

Named a Best Book of 2020 by USA TODAY 

From the winner of the Orange Award for New Writing comes a blistering, satirical novel about life under a global media and tech corporation that knows exactly what we think, what we want, and what we do—before we do.

One corporation has made a perfect world based on a perfect algorithm . . . now what to do with all these messy people?
     Lionel Bigman is dead. Murdered by a robot. Guy Matthias, the philandering founder and CEO of the mega-corporation Beetle, insists it was human error. But was it? Either the predictive algorithms of Beetle's supposedly omniscient 'lifechain' don't work, or, they've been hacked. Both scenarios are impossible to imagine and signal the end of Beetle's technotopia and life as we know it.
     Dazzlingly original and darkly comic, Zed asks profound questions about who we are, what we owe to one another, and what makes us human. It describes our moment—the ugliness and the beauty—perfectly. Kavenna is a prophet who has seen deeply into the present—and thrown back her head and laughed.
Praise For Zed: A Novel…
"5 Books Not to Miss" USA TODAY
"Briefly Noted" New Yorker
"January's 20 Must-Read Books" Entertainment Weekly
"Help Jump-Start Your New Year's Resolution to Read More" Gizmodo
"Best Science Fiction & Fantasy Books to Read in January" Kirkus
 
"What begins as a familiar addition to the dystopian or techno-horror genres becomes far stranger and more appealing. There are notes of both Catch-22 and 1984 in Zed, although where the first two focus on government control and endless war, the latter centers on government control and a technocratic corporation called Beetle. . .Kavenna's cleverness doesn't come at the expense of the book's depth (and I was impressed at her restraint, for example, in managing to avoid the term "Beetlemania"). Rather, her wit helps ease readers into what becomes a novel of ideas. . .Definitive answers are dangerous, Zed suggests; but in asking the questions, perhaps, we come to understand something about being messy, uncertain and human." The Washington Post
 
"The future is complicated. But that isn't why Joanna Kavenna's new dystopian novel Zed triggers an unsettling buzz inside your brain that lasts long after the last page…British novelist Joanna Kavenna cleverly combines dark humor and Pynchonesque storytelling in this insightful, unsettling look at how technology impacts our lives. . .Early chapters cause some technological claustrophobia as Kavenna draws readers into this bleak dystopian existence with the narrative's deadpan Orwellian double speak, but she breaks through that setup to deliver a crazy, convoluted plot that's riveting and relevant. So relevant that when an email asks you to "accept" a new privacy policy you'll think "zed." When an app asks you to share your location, you'll pause and mumble "zed." Kavenna has skillfully made our present feel like dystopian fiction." USA TODAY, ★★★½ out of four stars

"Engrossing, prescient, and disorienting. . .One of the markers of good art for me has always been its ability to leave a new film over the world, the way certain museum shows, when one exits the gallery, seem to have transformed the city itself. Zed is a novel about our most eternal concerns—free will, identity, language—transposed onto a future that feels terrifyingly present. . .You'll never want to look at your phone again." Nadja Spiegelman, The Paris Review 

"Wonderful . . .Orwellian in the classic sense of a dystopic future where language has been manipulated in all kinds of ways. . .Very funny and very dark. . .Futuristic, but so evocative of today." David Plotz, Slate

"Zed is what a dystopia looks like when written by a non-cynic. It is a dystopia written, instead, with a capacious, generous view of humanity, which in Kavenna's mind will always have scruples, be struck with empathy, be zedlike and surprising. Kavenna proves herself a master of the gently preposterous as she both mocks and sympathizes with her characters. . . Some reality is best captured the slow way. Say, by typing out a conversation—or in Kavenna's case, in a novel." Fran Bigman, Literary Hub 
 
"Kavenna is a diligent scholar of her form, melding a massively complex plot à la Thomas Pynchon and the wicked social satire of Evelyn Waugh with a healthy dose of Gogol's absurdist dysphoria thrown in for good measure. Complex, funny, prescient, difficult: Kavenna's novel tackles nothing less than everything as it blurs the lines between real and virtual." Kirkus Reviews, starred review 

"Delightfully disturbing. . .[An] intricate plot Dickens himself would surely have admired. . .Prose like clotted cream: thick but delicious. . .The number of prominent literary novelists trying their hands at speculative or science fiction continues to grow. . .Kavenna is at home at the most literary end of the genre in the way that Margaret Atwood is, as an extension of her more realistic fiction's philosophical, political, and moral concerns. . .I recommend this one highly." Valerie Sayers, Commonweal 

"Zed is a novel that takes seriously the age-old problem of free will. Not only does Kavenna pause the narrative to describe the difference between free will and determinism, she also dives deep into the theoretical waters of quantum phys­ics and entanglement. . . I geeked-out at Kavenna's bold and modern re-framing of the problem. . .With a deadpan sense of humour and an eye for the absurd, Kavenna eviscerates the tech-industry's utopian (libertarian) dream that we can code our way to a better future. . .A fascinating study on the question of free will, a castigating attack on the twisted uto­pian vision of Silicon Valley, and a cautionary tale of what will happen if we fail to regulate these corporate monoliths." Ian Mond, Locus

"[A] tangled, riveting parable of the modern surveillance state. . .Kavenna delivers this gripping narrative with wit and dark humor, leaving readers both entertained and a little paranoid."  Publishers Weekly, starred review

"Full of hilarious riffs on the way language itself fights back against control, and plot twists that seem to borrow from a gumshoe crime caper, Zed is a fabulously intelligent rejoinder to the idea that a tech dystopia is inevitable." Literary Hub

"Joanna Kavenna has a savage sense of humor and deft eye for ridiculous tech trends. Zed is as hilarious as it is horrifyingly plausible." Shelf Awareness

"With a biting wit and and a discomfiting plausibility, Zed offers up a portrait of what might happen if everything – and I do mean EVERYTHING – was dictated by algorithmic whims. . .There's a dark absurdity at the heart of Zed that is reminiscent of Kafka or Pynchon. . .Smart and propulsive. . .Unsettlingly prescient. . .Exceptional. . .An unrelenting and sly satiric look at a world that feels like somewhere we could legitimately find ourselves sooner than we think." The Maine Edge 
 
"Reminiscent of Dave Egger's The Circle and Jonathan Franzen's Purity. . .Zed sweats with wit and vitality, and reads like the work of a writer relishing her task. It also transcends its moment. For beyond its commentary on our present age—its technologies and pathologies—it can be interpreted as a cautionary tale about the havoc wrought on us by those who cannot accept that we will never be immortal, omniscient or transparent (to each other and ourselves)." The Times Literary Supplement

"Joanna Kavenna is a brilliantly unpredictable novelist: whatever you think she might do next, she doesn't. In terms of its stylistic innovations, Zed is a tour de force [. . .] a novel that takes our strange, hall-of-mirrors times very seriously indeed. It is a work of delirious genius." The Guardian
 
"Kavenna is a Very Intelligent Author. Her imagined world is convincing and darkly humorous. . .Kavenna's satire has bite and often rings uncomfortably true." Literary Review
 
"Kavenna's prose is exhilarating. Reality is incoherent. Dreams, VR and lived experience all blur. Identities multiply, while true authenticity seems impossible to quantify." The New Scientist
 
"Imagine a denser, intellectually chewier and very British version of dystopian tech satire The Circle, by Dave Eggers, and you'll have some idea of this…snort-inducingly funny." The Daily Mail
 
"Absorbing and timely. . .Hilarious. Zed plunges into potential extremes, and reminds us that in all our faults, we cannot be reduced to a series of 1s and 0s. At least, not yet." The Financial Times
 
"A witty exploration of freedom and oppression . . . fun and erudite . . . For readers who like to nod at clever references, the imaginative Zed will be a delight, and it will no doubt gain many admirers." The Sunday Times
 
"A brainy, bustling novel, Zed is hugely enjoyable. . .What's great about it is that Kavenna uses her scenario not only for horror, but laughter, too, as a send-up of corporate hubris and government heedlessness." The Observer
 
"If Joanna Kavenna's previous novel, A Field Guide to Reality, took us down a dreamy, Carrollian rabbit hole, then Zed, her latest, is more post-Orwellian nightmare. . .It's bizarre to find all this so funny, not least because it feels alarmingly close to our reality. Zed picks apart, with piercing clarity, how little people think about offering up their data, and how blithe we may be about who gathers it at the other end. . .One of the cleverest books you'll read this year." The Telegraph
 
"Joanna Kavenna's latest mindbender features the CEO of a multinational tech company whose sway has long outstripped that of mere governments. . .It's chillingly believable, but Zed is also extremely funny, especially when the hitherto compliant Veeps begin to malfunction…Kavenna remains one of the most brilliant and disconcerting British writers working today." The Spectator
 
"Zed is a marvel. Not only does it map the chilling implications of creeping technological and corporate influence, it reveals to us the deeply necessary phenomena with which that influence is in conflict. The result is both a painfully convincing dystopia and a moving argument for unpredictability - even chaos - as its own kind of freedom." Sam Byers, author of Perfidious Albion
 
"Zed is brilliant dystopian insanity on a grand scale, describing a world of corporate pretenders, broken software, and algorithms that never quite work as well as they're supposed to. Hilarious, incisive, and painfully relevant." Max Barry, author of Lexicon
 
"Joanna Kavenna's Zed is a dark, dazzling journey through possible near-futures. It's a novel of ideas with heart and soul—and a brimmingly brilliant distaste for those awaiting the digital rapture." Tom Chatfield, author of Fun Inc. and How To Survive in the Digital Age
Doubleday, 9780385545471, 352pp.
Publication Date: January 14, 2020
About the Author
JOANNA KAVENNA grew up in Britain, and has also lived in the US, France, Germany, Scandinavia, and the Baltic states. She is the author of several critically acclaimed works of fiction and nonfiction. Her novel Inglorious won the Orange Award for New Writing, and her novel The Birth of Love was longlisted for the Orange Prize. Joanna Kavenna's writing has appeared in the New Yorker, London Review of Books, The Spectator and many others. She was named as one of the Telegraph's 20 'Writers under 40' in 2010, and one of Granta's Best of Young British Novelists in 2013.