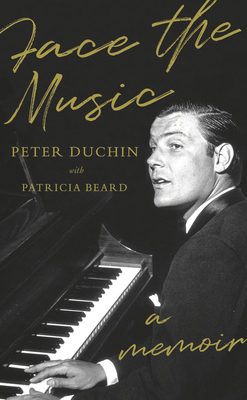 Face the Music
A Memoir
Hardcover

* Individual store prices may vary.
Other Editions of This Title:
Digital Audiobook (12/6/2021)
Library Binding, Large Print (2/1/2022)
Description
In this poignant memoir, the internationally celebrated bandleader reflects on family, illness, grief, and a bygone era of glamour, contemplating not just his career but the history of midcentury music and nightlife—and the enormously important role that the bandstand played in his life.


The internationally-famous bandleader Peter Duchin's six decades of performing have taken him to the most exclusive dance floors and concert halls in the world. He has played for presidents, kings, and queens, as well as for civil rights and cultural organizations. But in 2013, Duchin suffered a stroke that left him with limited use of his left hand, severely impacting his career.

Days of recuperating from his stroke—and later from a critical case of Covid-19—inspired Duchin to reconsider his complicated past. His father, the legendary bandleader Eddy Duchin, died when Peter was twelve; his mother, Marjorie Oelrichs Duchin, died when he was just six days old. In the succeeding decades, Duchin would follow his father to become the epitome of mid-20th Century glamour. But it was only half a century later, in the aftermath of his sudden illnesses, that he began to see his mother and father not just as the parents he never had, but as the people he never got to know; and at the same time, to reconsider the milieu in which he has been both a symbol and a participant.

More than a memoir, Face the Music offers a window into the era of debutantes and white-tie balls, when such events made national headlines. Duchin explores what "glamour" and "society" once meant, and what they mean now. With sincerity and humor, Face the Music offers a moving portrait of an extraordinary life, its disruptions, and revitalization.
Praise For Face the Music: A Memoir…
"There are a lot of elegant, sophisticated men in the world. And, God knows, there are plenty of talented musicians out there. You want handsome men? A dime a dozen. Surprisingly, there's also an abundance of courtly gentlemen walking among us. But if you want to read the autobiography of a courtly, handsome, urbane, gifted piano player, only one comes to mind and this is his story."
—Alec Baldwin, actor, filmmaker, and New York Times bestselling author of Nevertheless

"It was a glorious wedding day in Waterford, Virginia. The prop jet carrying the orchestra could not land in the fog. Suddenly, on the hilltop, a miracle! The bandleader, Peter Duchin, flanked by his orchestra appeared in the mist like The Four Horsemen of the Apocalypse. They wore snappy tuxedos, their bowties loose like lariats. Duchin had his jacket slung over his shoulder on the crook of his finger. Face the Music is a memoir by the maestro who accompanied Sinatra, played Capote's Black and White Ball, and entertained presidents. An outsider with a gift for inclusion, Duchin is equally at ease chatting with royalty or taking a meal in the hotel kitchen with the staff. Wherever he played, Duchin owned the joint. This is the story of how a stroke temporarily stopped the music, a broken heart led to a redeemed one, and the colorful characters that make his life a shimmering work of art also helped him heal. Written with the gifted Patricia Beard, this is a book for anyone who seeks strength, redemption and wisdom. Candor and wit are the ebony and ivory of this splendid read. Duchin never gives up because there's always the next gig. Hallelujah!"          
—Adriana Trigiani, New York Times bestselling author of The Shoemaker's Wife

"There are so many reasons to admire Peter Duchin and his moving memoir. It's a victorious celebration of life filled with marquee names and stories, radioactive in their resonance. He knows how to live!"
—Michael Feinstein, singer, pianist and founder, The Great American Songbook Foundation

"Peter Duchin's eloquent meditation on his remarkable life hits all the right notes. A bewitching combination of wit and wisdom, heart and soul, and a story that touches and entertains, the book is captivating from start to finish. I didn't want it to end!"
—Deborah Davis, author of Party of the Century: The Fabulous Story of Truman Capote and His Black and White Ball

"In person, Peter Duchin lights up a room. His book is similarly luminous. Recounted with his signature charm, Face the Music thrums with humor, brio and intelligence." 
—Peter Godwin, author of Mukiwa, and When A Crocodile Eats the Sun

"Inspiring and beautifully written. A journey through the highs and lows of a brilliant career, twice interrupted by life-threatening illnesses, which he overcame to return to the bandstand. What perils and triumphs! What a life!"
—Philip K. Howard, New York Times bestselling author of The Death of Common Sense

"Infusing the meandering retrospective is an elegy to an older style of 'society' entertainment, with its debutante balls and chic nightclubs...The result is a beguiling homage to jazz bands and the glamorous lifestyle they adorned."
—Publishers Weekly
Doubleday, 9780385545877, 304pp.
Publication Date: December 7, 2021
About the Author
PETER DUCHIN was educated at Hotchkiss and Yale. He made his professional debut at the age of 24 and became one of the preeminent pianists and bandleaders in America, performing for every president from Lyndon Johnson to Bill Clinton. He is the author of four books, including a previous memoir, Ghost of a Chance.

PATRICIA BEARD is the author of eleven non-fiction books, one novel, and hundreds of magazine articles. A former features editor of Town & Country and Mirabella, and former contributing editor of ELLE, Face the Music is her first collaboration.

or
Not Currently Available for Direct Purchase