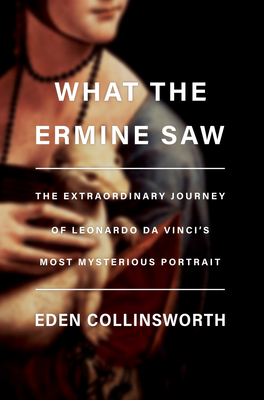 What the Ermine Saw
The Extraordinary Journey of Leonardo da Vinci's Most Mysterious Portrait
Hardcover

* Individual store prices may vary.
Description
In the tradition of The Lady in Gold and The Hare with Amber Eyes, the remarkable history behind one of the world's most beloved paintings, Leonardo da Vinci's Lady with an Ermine.

More than half a millennium ago, a young woman sat before a Grecian-nosed artist known as Leonardo da Vinci. Her name was Cecilia Gallerani, and she was the young mistress of Ludovico Sforza, duke of Milan. Her lover, a ruthless man, was aware that da Vinci's brilliance as a painter would not only capture his mistress's beauty but reflect his own political prowess. Indeed, with this beguiling painting—in which Gallerani holds a strange white ermine close to her breast—da Vinci revolutionized the genre, changing not just what a portrait looked like, but also its purpose. But despite the work's importance in its own time, no records of it have been found for the two hundred and fifty years it went missing.

Author Eden Collinsworth illuminates the eventual history of this unique masterpiece, as it journeyed from one owner to the next—from the brutal Milanese duke to an unconventional noblewoman to Nazi high command, instructed by Hitler that it be added to his private collection. Along the way, it witnessed some of history's most immoral undertakings as well as some of its greatest advancements until it came to rest at the Czartoryski Musuem in Krakow, Poland where it is currently displayed.

Expertly researched and deftly told, What the Ermine Saw is an enthralling account of Renaissance Italy and its actors, a comprehensive study of artistry and innovation, and a reminder that genius, power, and beauty always have a price.
Praise For What the Ermine Saw: The Extraordinary Journey of Leonardo da Vinci's Most Mysterious Portrait…
"What the Ermine Saw is a glorious picaresque of unbridled passions and unmitigated scoundrels. Eden Collinsworth takes us on a glorious romp through the great palaces and palazzos of Europe as she traces the extraordinary adventures of one of Leonardo da Vinci's greatest masterpieces." --Amanda Foreman, author of Georgiana, Duchess of Devonshire




Doubleday, 9780385546119, 288pp.
Publication Date: April 12, 2022
About the Author
EDEN COLLINSWORTH is a former media executive and business consultant. The author of three previous books, her most recent, Behaving Badly: The New Morality in Politics, Sex, and Business, was published in 2017. She lives in London.