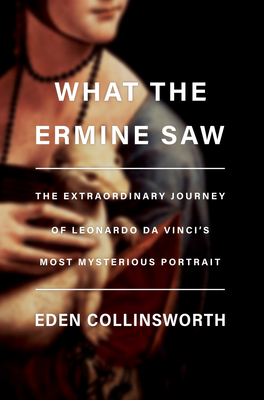 What the Ermine Saw
The Extraordinary Journey of Leonardo da Vinci's Most Mysterious Portrait
Hardcover

* Individual store prices may vary.
Other Editions of This Title:
Digital Audiobook (5/23/2022)
Description
The remarkable true story behind one of history's most enigmatic portraits—"a glorious picaresque of unbridled passions and unmitigated scoundrels, a glorious romp through the great palaces and palazzos of Europe" (Amanda Foreman, New York Times best-selling author of Georgiana, Duchess of Devonshire)

Five hundred and thirty years ago, a young woman sat before a Grecian-nosed artist known as Leonardo da Vinci. Her name was Cecilia Gallerani, and she was the young mistress of Ludovico Sforza, duke of Milan. Sforza was a brutal and clever man who was mindful that Leonardo's genius would not only capture Cecilia's beguiling beauty but also reflect the grandeur of his title. But when the portrait was finished, Leonardo's brush strokes had conveyed something deeper by revealing the essence of Cecilia's soul. Even today, The Woman with an Ermine manages to astonish.

Despite the work's importance in its own time, no records of it have been found for the two hundred and fifty years that followed Gallerani's death. Readers of The Hare with the Amber Eyes will marvel at Eden Collinsworth's dexterous story of illuminates the eventual history of this unique masterpiece, as it journeyed from one owner to the next–from the portrait's next recorded owner, a Polish noblewoman, who counted Benjamin Franklin as an admirer, to its exile in Paris during the Polish Soviet War, to its return to WWII-era Poland where—in advance of Germany's invasion—it remained hidden behind a bricked-up wall by a housekeeper who defied Hitler's edict that it be confiscated as one of the Reich's treasures. Fans of Anne-Marie O'Connor's The Lady in Gold will treasure the story of this criss-crossing journey and the enigmatic woman at its heart.

What the Ermine Saw is a fact-based story that cheats fiction and a reminder that genius, power, and beauty always have a price.

Praise For What the Ermine Saw: The Extraordinary Journey of Leonardo da Vinci's Most Mysterious Portrait…
"With. . .dizzying effect, Collinsworth—a former Hearst executive and now a think-tank chief of staff—vaults between granular detail and grand context. What the Ermine Saw bolts through wars and empires, art-making and state-making across the continent in the last 500 years." –New York Times Book Review

"What the Ermine Saw is a glorious picaresque of unbridled passions and unmitigated scoundrels. Eden Collinsworth takes us on a glorious romp through the great palaces and palazzos of Europe as she traces the extraordinary adventures of one of Leonardo da Vinci's greatest masterpieces." –Amanda Foreman, author of Georgiana, Duchess of Devonshire

"Collinsworth unwinds a thoroughly captivating story about a single painting. . .Filled with beauty, passion, greed, and evil, Collinsworth's search is a spirited art history yarn." –Kirkus Reviews

"Collinsworth conveys the vicissitudes of European history and the enduring fascination of da Vinci's work. . . this is an entertaining and accessible study of a masterpiece." –Publishers Weekly

"Collinsworth brings it all together and makes the story accessible and juicy, reveling in the more sordid details of courtly life and general scandal. . . Art lovers and history buffs will enjoy this fast-paced, entertaining romp from the Renaissance to the present day, focusing on one painting by one of the world's most famous, intriguing, and mysterious artists." –Library Journal

"Among the felicities of Ms. Collinsworth's book is its cast of appealing and sympathetic women who carved their own identities and public profiles to attain their aims. . .In recounting the portrait's tale, Ms. Collinsworth proves herself a skilled portraitist in her own right." –Wall Street Journal

"Almost all the key events of modern Europe were seen through the eyes of this painting, which Collinsworth vividly brings to life in her writing. . .Collinsworth's fantastic book is a testament, for those with the eyes to see, of that ancient and enduring truth that beauty cannot be destroyed." –Merion West
Doubleday, 9780385546119, 272pp.
Publication Date: May 24, 2022
About the Author
EDEN COLLINSWORTH is a former media executive and business consultant. The author of three previous books, her most recent, Behaving Badly: The New Morality in Politics, Sex, and Business, was published in 2017. She lives in London.