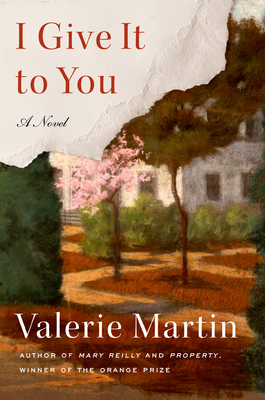 I Give It to You
A Novel
Hardcover

* Individual store prices may vary.
Other Editions of This Title:
Paperback (7/27/2021)
Description
A timeless story of family, war, art, and betrayal set around an ancient, ancestral home in the Tuscan countryside from bestselling novelist Valerie Martin.

When Jan, an American academic, rents an apartment in a Tuscan villa for the summer, she plans to spend her break writing a biography of Mussolini. Instead, she finds herself captivated by her hostess, the elegant, acerbic Beatrice. Beatrice's family ties to Villa Chiara and the land on which it stands extend back generations, although the family has fallen on hard times since WWII and the fate of the property is uncertain. But it is rich in stories, and Jan becomes intrigued by an account of Beatrice's uncle, who was mysteriously killed on the grounds at the conclusion of the war. Did he die at the hands of the invading Americans, or was he murdered by his countrymen for his political opinions?
Beatrice, a student of American literature, proves to be a beguiling storyteller and a sharp critic; she and Jan keep in touch after that summer, and a fierce friendship forms. As the years go on, Jan finds she can't help but write Beatrice's story, a decision that opens up questions of ownership and loyalty and leads to a major betrayal.
Thrumming with tension, informed by history, and exploring themes of duty, destiny, art, and friendship, I Give It to You is Valerie Martin at the top of her game.
Praise For I Give It to You: A Novel…
"A novel of philosophical and creative inquiry, cleverly plotted and packed with great characters."
--The Guardian

"The stories at the heart of Valerie Martin's latest novel, I Give It to You, are freely, but not always innocently, shared. And what Martin's narrator does with them raises prickly questions of ownership, artistic license and ethical responsibility."
--The New York Times Book Review

"Martin's prose, while effortlessly readable, can take deliciously unexpected turns . . . As enticing as the Salviati family's history is, it's the sense of a game being played on multiple levels that lends I Give It to You its deepest powers of seduction."
--The Seattle Times

"Yes, the narrator of Martin's new novel is a middle-aged American woman vacationing in Tuscany, but this prickly, uncomfortably relevant dive into personal and societal ethics is no escapist romance . . . Martin parses personal and social politics with methodical care and a reserved tone reminiscent of Edith Wharton."
--Kirkus, starred review

"An Italian villa and the family that owns it capture the imagination of an American writer in Martin's intimate, disquieting latest . . . Martin's engrossing tale explores relationships among family members and workers over four generations . . . Martin's masterly descriptions of the villa and its gardens are transportive. Evoking the charms and complexities of 20th-century Italy, Martin offers a thought-provoking reflection on writing, friendship, family, and betrayal."
--Publishers Weekly

"Valerie Martin has always been a consummate storyteller, but in her new novel she tackles the question of where do a writer's stories come from. And to whom does a story belong? The person it happened to or the one who tells it. In some ways all writers betray their subjects, and Valerie Martin digs into the heart of that betrayal. Reminiscent of Rachel Cusk's Outline Martin masterfully gives voice to those who have been silenced, whose stories would be lost were it not for a writer to retell it."
--Mary Morris, author of Gateway to the Moon

Praise for Sea Lovers:

"She always produces something unexpected and revelatory."
--Jane Smiley, author of Golden Age

Praise for Ghost of the Mary Celeste:

"A writer of immense talent and insight."
--Yann Martel, author of The Life of Pi
 
"Wonderfully ingenious, compelling, convincing and exciting."
--John Banville, author of Mrs. Osmond 

Praise for Confessions of Edward Day:

"Martin writes with amplitude, precision, grace, and wit."
--Margaret Atwood, New York Times Book Review
Nan A. Talese, 9780385546393, 304pp.
Publication Date: August 11, 2020
About the Author
VALERIE MARTIN is the author of ten novels, including The Ghost of the Mary Celeste, The Confessions of Edward Day, Trespass, Mary Reilly, Italian Fever, and Property; three collections of short fiction; and a biography of Saint Francis of Assisi, titled Salvation. She has been awarded grants from the National Endowment for the Arts and the John Simon Guggenheim Fellowship, as well as the Kafka Prize (for Mary Reilly) and Britain's Orange Prize (for Property).