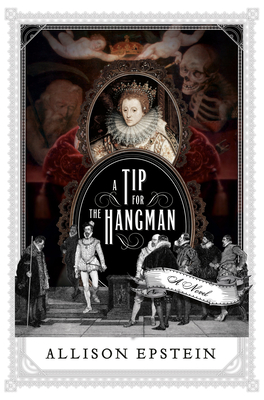 A Tip for the Hangman
A Novel
Hardcover

* Individual store prices may vary.
Description
Christopher Marlowe, a brilliant aspiring playwright, is pulled into the duplicitous world of international espionage on behalf of Queen Elizabeth I. A many-layered historical thriller combining state secrets, intrigue, and romance.

England, 1585. In Kit Marlowe's last year at Cambridge, he receives an unexpected visitor: Queen Elizabeth's spymaster, who has come with an unorthodox career opportunity. Her Majesty's spies are in need of new recruits, and Kit's flexible moral compass has drawn their attention. Kit, a scholarship student without money or prospects, accepts the offer, and after his training the game is on. Kit is dispatched to the chilly manor where Mary, Queen of Scots is under house arrest, to act as a servant in her household and keep his ear to the ground for a Catholic plot to put Mary on the throne.

While observing Mary, Kit learns more than he bargained for. The ripple effects of his service to the Crown are far-reaching and leave Kit a changed man. But there are benefits as well. The salary he earns through his spywork allows him to mount his first play, and over the following years, he becomes the toast of London's raucous theater scene. But when Kit finds himself reluctantly drawn back into the uncertain world of espionage, conspiracy, and high treason, he realizes everything he's worked so hard to attain--including the trust of the man he loves--could vanish before his very eyes.

Pairing modern language with period detail, Allison Epstein brings Elizabeth's privy council, Marlowe's lovable theater troupe, and the squalor of sixteenth-century London to vivid, teeming life as Kit wends his way behind the scenes of some of Tudor history's most memorable moments. At the center of the action is Kit himself--an irrepressible, irreverent force of nature. Thrillingly written, full of poetry and danger, A Tip for the Hangman brings an unforgettable protagonist to new life, and makes a centuries-old story feel utterly contemporary.
Praise For A Tip for the Hangman: A Novel…
"In her stunning debut, A Tip for the Hangman, Allison Epstein delivers a vivid and plausible reimagining of how Christopher 'Kit' Marlowe -- noted sixteenth-century English playwright and reluctant spy -- thwarted several imminent plots against the Crown. With wit and humor, Epstein expertly weaves in authentic social, political and religious details, creating a compelling and evocative story that soars. Fans of thrilling historical fiction will be highly engaged by this fast-paced read."
--Susanna Calkins, author of the award-winning Lucy Campion historical mysteries

"Debut author Allison Epstein delivers an absolute tour de force in A Tip for the Hangman. This masterfully researched, beautifully written novel takes the reader inside the spy networks, taverns, theatres, and halls of power of Tudor England, with the irreverent Christopher Marlowe as our guide. Epstein is a talent to watch, and A Tip for the Hangman is not to be missed!"
--Alyssa Palombo, author of The Borgia Confessions

"Allison Epstein's stunning debut creates its own genre: hard-boiled Elizabethan noir. Her imaginative take on Christopher Marlowe is virtuoso on many levels. The historical details are precisely placed yet never overwhelming, and her London is perfectly rendered in all its pungence and pageantry. But the double-crossing, the moral ambiguity, and the bloodlust all give fresh legs to a literary mystery that has as much Philip as Kit Marlowe in it. With equal ease, Epstein can describe Whitehall backstabbing and bawdy pub brawls, the sign of a gifted writer who is in command of her prodigious talent."
--Lee Irby, author of Unreliable

"Anyone who likes Elizabethan bad boys, theater, spies, high intrigue, suspense, and sex is going to be delighted by A Tip for the Hangman. The writing goes down like a pint of good ale on a hot day and the characters are excellent company to enjoy it with. Christopher Marlowe himself would have loved it. I certainly did."
--Delia Sherman, author of The Porcelain Dove

"The Christopher Marlowe book we've been waiting for! Here is the sexy, witty, self-destructive genius who can't stay out of trouble, blazing through an Elizabethan period that comes vividly to life in Epstein's brilliantly-researched novel. Epstein's sentences shine, with nothing fussy or 'Ye Olde' about them. More than once I was stopped dead by a sentence that nailed me in my tracks with its insight and clarity. And the ending is a tour de force."
--Ellen Kushner, author of Swordspoint
Doubleday, 9780385546713, 384pp.
Publication Date: February 9, 2021
About the Author
ALLISON EPSTEIN earned her M.F.A. in fiction from Northwestern University and a B.A. in creative writing and Renaissance literature from the University of Michigan. A Michigan native, she now lives in Chicago, where she works as a copywriter for clients in higher education and the arts. When not writing, she enjoys good theater, bad puns, and fancy jackets. A Tip for the Hangman is her first novel.