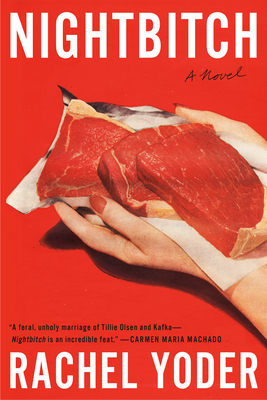 Nightbitch
Hardcover

* Individual store prices may vary.
Other Editions of This Title:
Digital Audiobook (7/19/2021)
Description
Named a Most Anticipated Book of July by Time Magazine, Entertainment Weekly, Nylon, the Chicago Tribune, Business Insider, Bustle, Lit Hub, Book Riot, Thrillist, Publishers Weekly, Library Journal, the Chicago Review of Books, and more... A feral, unholy marriage of Tillie Olsen and Kafka--Nightbitch is an incredible feat.--CARMEN MARIA MACHADO In this blazingly smart and voracious debut, an artist turned stay-at-home mom becomes convinced she's turning into a dog. One day, the mother was a mother, but then one night, she was quite suddenly something else... An ambitious mother puts her art career on hold to stay at home with her newborn son, but the experience does not match her imagination. Two years later, she steps into the bathroom for a break from her toddler's demands, only to discover a dense patch of hair on the back of her neck. In the mirror, her canines suddenly look sharper than she remembers. Her husband, who travels for work five days a week, casually dismisses her fears from faraway hotel rooms. As the mother's symptoms intensify, and her temptation to give in to her new dog impulses peak, she struggles to keep her alter-canine-identity secret. Seeking a cure at the library, she discovers the mysterious academic tome which becomes her bible, A Field Guide to Magical Women: A Mythical Ethnography, and meets a group of mommies involved in a multilevel-marketing scheme who may also be more than what they seem. An outrageously original novel of ideas about art, power, and womanhood wrapped in a satirical fairy tale, Nightbitch will make you want to howl in laughter and recognition. And you should. You should howl as much as you want.
Doubleday Books, 9780385546812, 256pp.
Publication Date: July 20, 2021
About the Author
RACHEL YODER is a founding editor of draft: the journal of process. She holds M.F.A's from the University of Arizona (fiction) and the University of Iowa (nonfiction), where she was an Iowa Arts Fellow. Her stories and essays have been published in literary journals such as The Kenyon Review and The Missouri Review, as well as national outlets such as The New York Times, The Sun, and Lit Hub. She lives in Iowa City with her husband and son.
1. Does the main character actually transform into a dog, or is the transformation a fantasy of Nightbitch's sleep-deprived mind? Does it matter whether the transformation is "real" or not?
2. In the book, the main character is only referred to as "the mother" or "Nightbitch." Similarly, the husband and the son are both also left unnamed. Why do you suppose this is? What effect did it have on your reading of the book?
3. After an animalistic act of violence, the book lapses into extended backstory about Nightbitch's childhood and mother. How does the information in this section add to your understanding of Nightbitch and her own story of motherhood?
4. The "performance of motherhood" is an idea that's played with in this book. Where do you see this idea being animated in the book and what does this animation have to say about the nature of modern motherhood?
5. What are all the different ways in which you see creativity being manifested in this book? What are the parallels between raising a child and making a piece of art?
6. What are the messages Nightbitch has received about what a "good mother" is and how does she ultimately redefine this for herself? In the end, how do you think Nightbitch would define "good mother" for herself?
7. Can you explain how humor worked within a scene in Nightbitch? What are the benefits of including humor in such a dark and in many regards serious book?
8. From the idea of "working moms" to the herbal multi-level marketing scheme, how does capitalism effect contemporary notions of motherhood and how Nightbitch feels about herself as a woman and a mother?
9. How did the husband's behavior contribute to Nightbitch's evolution? And how and why do you think his behavior changed as the Mother became more Nightbitch?
10. What would have been lost if Wanda White and her book weren't a part of Nightbitch's story? What function does this phantom character play within the book?
11. Pretend you're an art critic. What do you think Nightbitch's ultimate performance is meant to communicate to the reader?