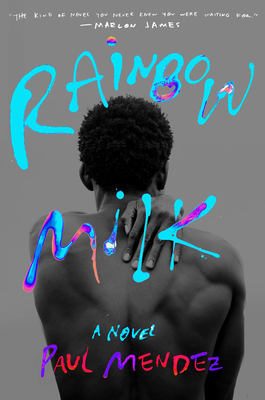 Rainbow Milk
A Novel
Hardcover

* Individual store prices may vary.
Other Editions of This Title:
Digital Audiobook (6/7/2021)
Paperback (5/31/2022)
Paperback, Large Print (6/22/2021)
Description
Nominated for a 34th annual Lambda Literary Award • An essential and revelatory coming-of-age narrative from a thrilling new voice, Rainbow Milk follows nineteen-year-old Jesse McCarthy as he grapples with his racial and sexual identities against the backdrop of his Jehovah's Witness upbringing.

"The kind of novel you never knew you were waiting for." —Marlon James


In the 1950s, ex-boxer Norman Alonso is a determined and humble Jamaican who has immigrated to Britain with his wife and children to secure a brighter future. Blighted with unexpected illness and racism, Norman and his family are resilient, but are all too aware that their family will need more than just hope to survive in their new country.

At the turn of the millennium, Jesse seeks a fresh start in London, escaping a broken immediate family, a repressive religious community and his depressed hometown in the industrial Black Country. But once he arrives he finds himself at a loss for a new center of gravity, and turns to sex work, music and art to create his own notions of love, masculinity and spirituality.

A wholly original novel as tender as it is visceral, Rainbow Milk is a bold reckoning with race, class, sexuality, freedom and religion across generations, time and cultures.
Praise For Rainbow Milk: A Novel…
Finalist for the 2022 Lambda Literary Award for Gay Fiction

Named one of the five best new paperbacks by The New York Times Book Review

Recommended by Jeremy Atherton Lin on Bookshop.org

"The kind of novel you never knew you were waiting for. An explosive work that reels from sex, to sin, to salvation all the while grappling with what it means to black, gay, British, a son, a father, a lover, even a man. A remarkable debut." —Marlon James, New York Times bestselling author of Black Leopard, Red Wolf
 
"When did you last read a novel about a young, black, gay, Jehovah's Witness man from Wolverhampton who flees his community to make his way in London as a prostitute? This might be a debut, but Mendez is an exciting, accomplished and daring storyteller with a great ear for dialogue. Graphic erotica alert! Don't read this book if you like your fiction cosy and middle-of-the-road." —Bernardine Evaristo, Booker Prize–winning author of Girl, Woman, Other
 
"As with writers like Marlon James and Nicole Dennis-Benn, Mendez's dialect-writing stretches the boundaries of a language owned by no one. . . . The writing is delicious and subtle throughout, often punctuated by musical references that ground it in the decades it explores." —The New York Times Book Review

"[Rainbow Milk] is more real and generous than most contemporary novels. Ultimately, this is a searing account of the human need for physical connection. Mendez never shies away from the melodrama of sex, the cymbal-crashing opera of desire. He is a unique new voice in the British novel."—The Sunday Times (London)
 
"A state of the nation novel . . . Extraordinary . . .Tthe voice of the character is so strong . . . Paul Mendez is now a significant new figure in the literary world . . . James Baldwin would be very proud of this book." —BBC
 
"A novel that does what great debuts do—bringing an originality of voice and vision to the form, refreshing our ideas of what is possible in fiction . . .A novel of huge power and emotional impact, written in language that is sharp, distinctive and often beautiful. 2020 has been a year of superb debuts and Rainbow Milk is among the best."—The Observer
 
"Eye-poppingly frank, urgent and fresh." —Financial Times
 
"Exhilarating . . . Rainbow Milk is an important and ambitious book . . . A bravura piece of writing, with echoes of Andrea Levy's Small Island . . .Think Barry Jenkins's Moonlight but set in the West Midlands, with Bibles instead of crack . . . If Rainbow Milk is anything to go by, Mendez looks set to shake up the literary establishment in the most thrilling way. —i
 
"Mendez dazzles with his debut, an explosive bildungsroman… Mendez has a full bag of tricks and a sprawling range, deploying biting social commentary; unflinching, intense sex scenes; and exquisite prose, making his work alternately reminiscent of Bernadine Evaristo, Garth Greenwell, Zadie Smith, and Alan Hollinghurst. Readers will be hard put to find a more inspired voice."—Publishers Weekly *Starred Review*

"Mendez's sterling debut is an epic, by turns sexy and harrowing, a tale of . . .not only surviving but also finding joy, art, and love in the process. . . Stunningly forthright and emotionally evocative fiction from an exciting new voice." —Booklist

"A fearless and hopeful account of one black man's entry into adulthood that explores identity, family and sexuality against the backdrop of the Windrush legacy . . . This is a wonderful read from an exciting new voice in British fiction." —The Independent
 
"A very beautifully and tenderly written account of what it was like to come to the 'mother country,' expecting a welcome and finding prejudice." —The Telegraph
 
"Rainbow Milk is the first novel I've read where the white, male, middle-aged body is eroticised and fetishised to this degree . . . written about in a way that maps power relationships going back centuries, and undercuts the more typical focus on the black male body . . . Rainbow Milk is a bold and raw novel . . . Memorable and affecting." —New Statesman
 
"An original addition to the queer fiction canon." —Cosmopolitan UK

"This is a debut novel but it reads like a pro . . . His prose is cool, slippery and cuts clean to the quick. He takes you places unfamiliar and confusing and with a sentence connects you to the core of the character's mind. It's a fast ride in an astonishingly cool car . . . His sensual explorations of desire are mixed together with withering condemnations of British imperialist ideology, folded in with tender reflections on parenting, and what it means to be young, queer and black in the UK today." —GScene
 
"Urgent, original and heartbreaking." —The Irish Times
Doubleday, 9780385547062, 336pp.
Publication Date: June 8, 2021
About the Author
PAUL MENDEZ was born and raised in the Black Country. He now lives in London and is studying for an M.A. in Black British Writing at Goldsmiths, University of London. He has been a performing member of two theatre companies, and worked as a voice actor, appearing on audiobooks by Andrea Levy, Paul Theroux and Ben Okri, most recently recording Ian Wright's A Life in Football for Hachette Audio. As a writer, he has contributed to the Times Literary Supplement and the Brixton Review of Books. Rainbow Milk is his debut novel.
or
Not Currently Available for Direct Purchase