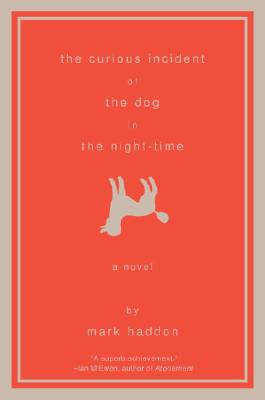 The Curious Incident of the Dog in the Night-Time
Hardcover

* Individual store prices may vary.
Other Editions of This Title:
Digital Audiobook (5/11/2004)
Paperback (5/18/2004)
Hardcover (7/31/2003)
Prebound (5/18/2004)
Paperback (11/25/2014)
Prebound (5/18/2004)
Paperback, Vietnamese (10/1/2019)
Paperback (4/1/2004)
Paperback (9/1/2008)
Paperback (1/1/2010)
Audio Cassette (5/1/2003)
Paperback (8/1/2011)
Paperback (4/1/2004)
Description
Foreign rights have been sold to the UK, Italy, France, Sweden, Norway, Spain, Japan, Greece, Finland, Denmark, Holland and Brazil.

Film rights have been bought by Hey Day (the makers of Harry Potter) together with Brad Grey (producer of The Sopranos) and Brad Pitt in their first acquisition for Warner Bros.

Narrated by a fifteen-year-old autistic savant obsessed with Sherlock Holmes, this dazzling novel weaves together an old-fashioned mystery, a contemporary coming-of-age story, and a fascinating excursion into a mind incapable of processing emotions.

Christopher John Francis Boone knows all the countries of the world and their capitals and every prime number up to 7,057. Although gifted with a superbly logical brain, Christopher is autistic. Everyday interactions and admonishments have little meaning for him. At fifteen, Christopher's carefully constructed world falls apart when he finds his neighbour's dog Wellington impaled on a garden fork, and he is initially blamed for the killing.

Christopher decides that he will track down the real killer, and turns to his favourite fictional character, the impeccably logical Sherlock Holmes, for inspiration. But the investigation leads him down some unexpected paths and ultimately brings him face to face with the dissolution of his parents' marriage. As Christopher tries to deal with the crisis within his own family, the narrative draws readers into the workings of Christopher's mind.

And herein lies the key to the brilliance of Mark Haddon's choice of narrator: The most wrenching of emotional moments are chronicled by a boy who cannot fathom emotions. The effect is dazzling, making for one of the freshest debut in years: a comedy, a tearjerker, a mystery story, a novel of exceptional literary merit that is great fun to read.
Praise For The Curious Incident of the Dog in the Night-Time…
"The book gave me that rare, greedy feeling of: this is so good I want to read it all at once but I mustn't or it will be over too soon. Haddon pulls off something extraordinary . . ." -- The Observer

"Always surprising and often hilarious." -- The Globe and Mail

"One of the most affecting things I've read in years . . . it's brilliant." -- The Guardian

"Mark Haddon's new novel comes with glowing endorsements from Ian McEwan and Oliver Sacks . . . For once, the pundits speak the truth." -- The Economist

"A stark, funny and original first novel . . . [with] one of the strangest and most convincing characters in recent fiction." -- The New York Times Book Review

"A brilliant autism novel has been overdue -- and this is it! The Curious Incident of the Dog in the Night-Time. Mark Haddon shows great insight into the autistic mind, and he brings his young narrator protagonist quite wonderfully to life. I found it very moving, very plausible -- and very funny." -- Oliver Sacks, author of Uncle Tungsten

"I have never read anything quite like Mark Haddon's funny and agonizingly honest book, or encountered a narrator more vivid and memorable. I advise you to buy two copies; you won't want to lend yours out." -- Arthur Golden, author of Memoirs of a Geisha

"The Curious Incident brims with imagination, empathy, and vision -- plus it's a lot of fun to read." -- Myla Goldberg, author of Bee Season

"Mark Haddon's portrayal of an emotionally disassociated mind is a superb achievement. He is a wise and bleakly funny writer with rare gifts of empathy." -- Ian McEwan, author of Atonement
Doubleday Canada, 9780385659796, 240pp.
Publication Date: June 24, 2003
or
Not Currently Available for Direct Purchase