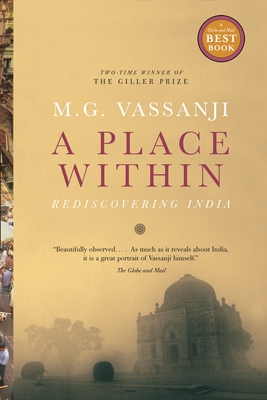 A Place Within: Rediscovering India (Paperback)
Rediscovering India
Anchor Canada, 9780385661799, 464pp.
Publication Date: September 15, 2009
Description
A" Globe and Mail "Best Book
It would take many lifetimes, it was said to me during my first visit, to see all of India. The desperation must have shown on my face to absorb and digest all I possibly could. This was not something I had articulated or resolved; and yet I recall an anxiety as I travelled the length and breadth of the country, senses raw to every new experience, that even in the distraction of a blink I might miss something profoundly significant.
I was not born in India, nor were my parents; that might explain much in my expectation of that visit. Yet how many people go to the homeland of their grandparents with such a heartload of expectation and momentousness; such a desire to find themselves in everything they see? Is it only India that clings thus, to those who ve forsaken it; is this why Indians in a foreign land seem always so desperate to seek each other out? What was India to me?
The inimitable M.G. Vassanji turns his eye to India, the homeland of his ancestors, in this powerfully moving tale of family and country. Part travelogue, part history, A Place Within is M.G. Vassanji's intelligent and beautifully written journey to explore where he belongs.
"From the Hardcover edition.
About the Author
M.G. Vassanji is the author of the acclaimed novels The Assassin s Song, shortlisted for the 2007 Scotiabank Giller Prize and the Governor General s Award for Fiction, The Gunny Sack, which won a regional Commonwealth Writers Prize, No New Land, and Amriika. He has twice been awarded the Giller Prize, for his novels The Book of Secrets and The In-Between World of Vikram Lall. Vassanji lives in Toronto. "From the Hardcover edition.""
Praise For A Place Within: Rediscovering India…
"Strikingly written …beautifully observed, filled with myths, stories, legends, history, journal entries, and family narratives. It is an expertly stitched collage and, as much as it reveals about India, it is a great portrait of Vassanji himself…. Wonderful."
— The Globe and Mail

"Vassanji brings a gifted storyteller's eye to A Place Within, drawing entertainingly on extensive journals he kept on his Indian excursions…. He captures both the spiritual and the uglier sides of India, all the raw fundamentals of life there, but he always leads with what he sees as India's 'essential quality of tolerance and flexibility,' and the overwhelming pull of ancestry."
— Vancouver Sun

"A striking and rich melange of impression and experience, of the enchantments and disappointments of such an arduous and long-awaited pilgrimage."
— London Free Press

"A lovely, deeply personal book — one entirely worthy of one of Canada's top-shelf talents."
— Edmonton Journal
Advertisement