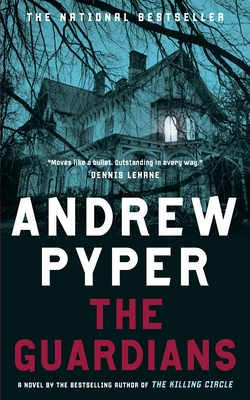 The Guardians (Paperback)
Anchor Canada, 9780385663724, 368pp.
Publication Date: September 13, 2011
* Individual store prices may vary.
Description
From acclaimed author Andrew Pyper, a gripping novel of psychological suspense about four men haunted by a secret from childhood.

There's no such thing as an empty house...

Trevor, Randy, Ben and Carl grew up together in the small town of Grimshaw as many boys do--playing hockey on the local team, the Guardians, and forging friendships that run deep. Twenty-four years later, Trevor, recently diagnosed with Parkinson's disease and faced with his own mortality, learns that his old friend Ben has committed suicide. He returns to Grimshaw to pay his respects and to reunite with Randy and Carl.
 
But going home means going back to the memories of a sinister crime that occurred in the abandoned house at 321 Caledonia Street--a crime that claws its way into the present, leaving its indelible mark on everyone. Chilling to the core and gripping in the extreme, The Guardians is taut psychological suspense that will leave you at once breathless and moved.
About the Author
ANDREW PYPER is the author of four novels and a collection of short stories, Kiss Me, which drew critical acclaim and heralded him as a writer to watch. His first novel, Lost Girls, was a national bestseller in Canada and a Notable Book selection in the New York Times Book Review and the London Evening Standard. The novel won the Arthur Ellis Award for Best First Novel. His chilling follow-up novel set in the Amazon, The Trade Mission, was called "remarkable and compelling" by The London Times. His third novel, The Wildfire Season, was a national bestseller and acclaimed in Canada, the U.S. and Britain. His latest novel, The Killing Circle, a national bestseller and New York Times Notable book, was published in Fall 2008. The Guardians, as well as three of his previous novels, is being developed for feature film.
Praise For The Guardians…
"The latest novel from Canadian author Pyper is an ambitious excursion into Stephen King territory. . . . With a well-executed narrative, both past . . . and present, strong characterization and some truly arresting images, The Guardians is a compelling and genuinely creepy read."
— The Guardian (UK)

"Everything you could ask for in a thriller. It's psychologically unnerving, moves like a bullet, and is fraught with so much tension you might crack a tooth reading it. Outstanding in every way."
– Dennis Lehane, author of Mystic River

 
"Pyper reveals his skill with pacing as the story takes on the speed of midnight dash through a graveyard. And please note: This is not schlock horror dripping with gore. Pyper expertly creates terror through mood and setting. We hear what keeps going bump in the night, but never quite see it."
— The Globe and Mail

"A splendidly eerie haunted house story, and a superb evocation of small town life. The Guardians gripped me from its opening line and never let go."
– John Connolly, author of Every Dead Thing and The Lovers

"A perfect haunted-house story, a crisp, eerie October night of a book that had me in its clutches from page one."
– Joanne Harris, author of Chocolat 

"So much more than a thriller. Truly great writing, haunting, intelligent, human, terrifying. Pyper is a genius."
– Deon Meyer, author of Thirteen Hours

"A master of psychological suspense at its spine-tingling best, Andrew Pyper knows just how to lure you in to all the deep, dark places of the human heart, and then, twist."
– Lisa Gardner, author of The Neighbor

"A dark, brooding, compelling story about the loss of innocence and the ubiquity of evil, with a finalé as bittersweet as your fiftieth birthday party."
— The Times (UK)

"Beautifully written...The characters are drawn with extraordinary skill."
— de Volkskrant (Netherlands)

"Pyper is the most striking Canadian crime writer to emerge in recent years and The Guardians is a characteristically intelligent move into Stephen King territory."
— Mail on Sunday (UK)