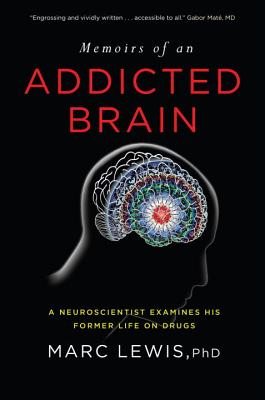 Memoirs of an Addicted Brain (Hardcover)
A Neuroscientist Examines his Former Life on Drugs
Doubleday Canada, 9780385669252, 320pp.
Publication Date: October 4, 2011
* Individual store prices may vary.
Description
A gripping, ultimately triumphant memoir that's also the most comprehensive and comprehensible study of the neuroscience of addiction written for the general public. FROM THE INTRODUCTION:
"We are prone to a cycle of craving what we don't have, finding it, using it up or losing it, and then craving it all the more. This cycle is at the root of all addictions, addictions to drugs, sex, love, cigarettes, soap operas, wealth, and wisdom itself. But why should this be so? Why are we desperate for what we don't have, or can't have, often at great cost to what we do have, thereby risking our peace and contentment, our safety, and even our lives?" The answer, says Dr. Marc Lewis, lies in the structure and function of the human brain. Marc Lewis is a distinguished neuroscientist. And, for many years, he was a drug addict himself, dependent on a series of dangerous substances, from LSD to heroin. His narrative moves back and forth between the often dark, compellingly recounted story of his relationship with drugs and a revelatory analysis of what was going on in his brain. He shows how drugs speak to the brain - which is designed to seek rewards and soothe pain - in its own language. He shows in detail the neural mechanics of a variety of powerful drugs and of the onset of addiction, itself a distortion of normal perception. Dr. Lewis freed himself from addiction and ended up studying it. At the age of 30 he traded in his pharmaceutical supplies for the life of a graduate student, eventually becoming a professor of developmental psychology, and then of neuroscience - his field for the last 12 years. This is the story of his journey, seen from the inside out.
About the Author
DR. MARC LEWIS is a developmental neuroscientist and professor of human developmental psychology, recently at the University of Toronto, where he taught and conducted research from 1989 to 2010, and currently at Radboud University in the Netherlands. He is the author of over 50 journal publications in neuroscience and developmental psychology. Dr. Lewis co-edited Emotion, Development, and Self-Organization: Dynamic Systems Approaches to Emotional Development (Cambridge University Press, 2000) and co-authored with his wife Isabela Granic Bed Timing (HarperCollins, 2009) which applies developmental theory to help parents get their young children to sleep through the night.
Praise For Memoirs of an Addicted Brain: A Neuroscientist Examines his Former Life on Drugs…
"Memoirs of an Addicted Brain . . . takes on all of human longing. Unlike many of his brain science colleagues and fellow addicts, Dr. Lewis can write. One moment, he is remembering the details of his life as an addict; the next, he is reconstructing, based on newer scientific findings, what the drugs were doing to his brain. The result is not just a book about a brain on drugs, but a picture of addiction as an unavoidable urge of human nature. . . . It's the way he drapes his scientific understanding of human chemical function over the frame of his own life that makes his memoir compelling."
—The Globe and Mail
 
"In his book, Lewis seamlessly integrates the physiology and psychology of addiction with his own vivid, disturbing memories. It's a fascinating and fact-filled glimpse into the world of needles and need."
—Georgia Straight

"[Memoirs of an Addicted Brain] is compelling, and for readers grappling with addiction, Mr. Lewis's mechanistic approach might well be novel enough to inspire them to seek the happiness he now enjoys."
—The Wall Street Journal
 
"Marc Lewis's Memoirs of an Addicted Brain is a cracker. . . . The science is up to the minute. Lewis clearly knows his stuff."
—The Australian

"Full . . . fascinating. . . . the picture of his brain activity with which Lewis furnishes us is at just the right resolution for an interested lay reader."
—The Independent    
or
Not Currently Available for Direct Purchase