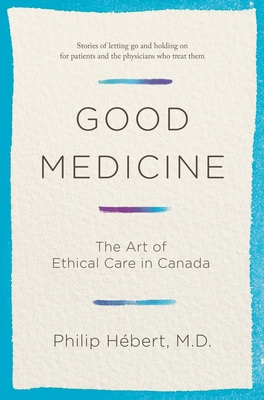 Good Medicine (Hardcover)
The Art of Ethical Care in Canada
Doubleday Canada, 9780385683258, 208pp.
Publication Date: April 19, 2016
* Individual store prices may vary.
Description
Award-winning physician Philip C. Hébert creates a brave and intimate portrait of the complex ethical imperatives at the heart of good medicine: doctors do not have all the answers; patients must be heard; and their needs, desires, fears, and experiences must be reflected in how practitioners look after them.

Medical science continues to advance to previously unimagined heights in its diagnostic and treatment capabilities. With these advances, however, come unexpected ethical dilemmas for practitioners, patients, and families. In Good Medicine, Dr. Hébert approaches these questions of pressing and fundamental importance from the dual point of view of acclaimed physician and long-time patient. With remarkable balance and sensitivity, he explores a range of politically, constitutionally, and ethically contentious matters, including assisted suicide, treatment refusal and suspension, and the overall allocation of medical resources. Hébert pairs his artful analysis with the real-life, often deeply moving stories of those who have lived these challenges. Hébert offers piercing and compassionate insight into the relationship between patients and medical professionals, and guides readers towards the open and empathetic communication needed to ensure good medicine for everyone.
About the Author
PHILIP HÉBERT is a Professor Emeritus in the Department of Family and Community Medicine at the University of Toronto. In 2008, he received the William Marsden Award in Medical Ethics. In 2011, the College of Family Physicians of Canada named him Ontario's Family Physician of the Year. From 1989 to 2010, he was on full-time medical staff at Sunnybrook Health Sciences Centre where he also acted as a bioethics consultant and chaired the Research Ethics Board. He is the author of Doing Right, a practical guide to ethics for medical trainees and physicians. He lives in Toronto.
Praise For Good Medicine: The Art of Ethical Care in Canada…
"Good Medicine offers no easy solutions to the moral dilemmas within the practice of medicine. Instead, with the humanity of a conscientious physician, and the vulnerable realism of a patient, Philip Hébert offers the power of subtle observations and an empathic vision. This book is a testament to the real core of medicine, where amidst the technical prowess of modern tools and drugs lies a profoundly human endeavour, imbued with ethical significance, intertwined values and the potential for human beings to assist each other on their journey through this life." —Vincent Lam, award-winning author of Bloodletting and Miraculous Cures and The Headmaster's Wager

"Philip Hébert is the family doctor we all wish we had: curious, caring and patient. In this book he takes us to the bedside of some memorable cases and gives us an insider's look at the challenges Canada's physicians face. Like a good doctor, Philip is willing to probe a wound in order to heal it. With articulate prose and great humility he looks unflinchingly at his own flaws and those of our medical system. I highly recommend this book. These stories will not only touch you, but teach you how to be a better patient." —Wanda Morris, CEO of Dying With Dignity Canada

"Dr. Hébert  recounts moving stories of patients he has encountered over his career and the often difficult choices that had to be made. As a physician and a patient, he urges kindness, compassion and an open ear when doctors deal with someone facing a life altering diagnosis. I was drawn in, asking myself: 'What if that were my mother, or my husband? What would I do? What would they want?' This book is as much for healthy (ordinary) Canadians as it is for physicians. Eventually their paths will cross, and how that relationship unfolds may determine the quality of someone's final days." —Avis Favaro, CTV National News-Medical correspondent