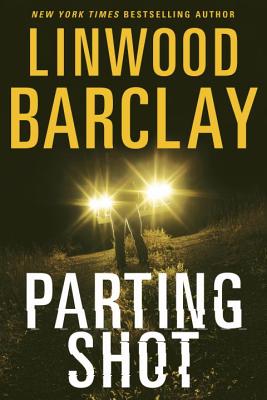 Parting Shot (Hardcover)
Doubleday Canada, 9780385690232, 464pp.
Publication Date: October 31, 2017
* Individual store prices may vary.
Description
From New York Times and #1 international bestselling author Linwood Barclay comes a new, standalone blockbuster thriller that spins off from the events of the explosive Promise Falls trilogy.

If you made a mistake that took someone's life, you'd remember it . . . wouldn't you?
     After a tragedy rocks the community of Promise Falls, Cal Weaver is asked to investigate the threats being made to the accused's family. He's heard all about it on the news: the young man who drank too much, stole a Porsche and killed a girl, and who claimed afterwards not to remember a single thing. The whole town is outraged that he got off lightly, but for reasons Cal can't explain, he accepts the job. Then Cal finds himself caught up in a vicious revenge plot, chasing someone set on delivering retribution. In Cal's experience, it's only ever a matter of time before threats turn into action. . . .
     A gripping thriller packed with scandal, from the master of the twist you never saw coming.
About the Author
LINWOOD BARCLAY is the New York Times and #1 international bestselling author of sixteen critically acclaimed novels, including the Promise Falls trilogy, composed of Broken Promise, Far From True and The Twenty-Three; No Safe House; A Tap on the Window; Trust Your Eyes, which has been optioned for film; and No Time Goodbye. The author lives in Oakville, ON.
Praise For Parting Shot…
National Bestseller
International Bestseller
Finalist for the 2018 Silver Falchion Award

"A tough-minded crime novel about the dangers of vigilantism. . . . Real crimes, unspeakably nasty ones, including murder, figure in this well-built novel." —The New York Times Book Review

"Fans know to expect a twist from Linwood Barclay and they get more than one here. Those of us hooked on [Promise Falls] can hope that trilogy or no, Cal and the town make another appearance at some point." —The Globe and Mail

"Billed as a stand-alone spinoff of Barclay's Promise Falls trilogy, the new book has a stripped-down, tautly focused quality. . . . Barclay's latest small-town thriller is one of his best." —Kirkus Reviews, starred review

"Outstanding. . . . Barclay adroitly blends themes of internet vitriol and simmering societal rage with a taut plot full of sly hints, unexpected twists and red herrings." —Publishers Weekly, starred review

"Parting Shot [is] one of the best entries in Barclay's Promise Falls series." —Chicago Tribune

"Barclay knows how to keep readers turning the page, and this stand-alone novel set in the same town with the same characters after the events of his Promise Falls trilogy will have fans excited. . . . While the community might not be the ideal place to live, the stories there do provide wonderful reading entertainment." —Associated Press

"Cal Weaver, the PI, and Barry Duckworth, the police detective . . . put in clever and resourceful performances in the familiar style of a page-turner Barclay book." —Toronto Star

"Barclay's plots are a delight, and his small town never fails to deliver a series of shocks" —The Sunday Times

"The two characters' stories alternate chapters to good effect, doubling this twist-filled book's suspense." —The Wall Street Journal 

"The real virtues of Barclay's best-selling fiction lie in his characters, not just his plots. Families are as muddled and complicated in his novels as they are in life, generally bolstered by variations of loyalty and love as well as, sometimes, terrible forms of betrayal." —The London Free Press 

Praise for Linwood Barclay:
 • "Where has Linwood Barclay been all my life?" --Stephen King
 • "No one can thrill you and chill you better than Linwood Barclay." --Tess Gerritsen
 • "Canada's current thriller king." --National Post
 • "If you haven't discovered him yet, it's time you did." --The Globe and Mail
 • "Linwood Barclay has become the master of the page-turner thriller." --Irish Independent