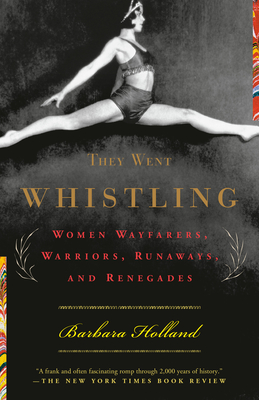 They Went Whistling (Paperback)
Women Wayfarers, Warriors, Runaways, and Renegades
Anchor, 9780385720021, 304pp.
Publication Date: February 5, 2002
* Individual store prices may vary.
Description
Throughout history there have been women, endowed with curiosity and abundant spirit, who stepped out of the cave, cast off the shackles of expectation, and struck out for new territory. In this ode to bold, brash, and sometimes just plain dangerous women, Barbara Holland reanimates those rebels who defied convention and challenged authority on a truly grand scale: they traveled the world, commanded pirate ships, spied on the enemy, established foreign countries, scaled 19,000-foot passes, and lobbied to change the Constitution. Some were merry and flamboyant; others depressive and solitary. Some dressed up as men; others cherished their Victorian gowns. Many were ambivalent or absentminded mothers. But every one of them was fearless, eccentric, and fiercely independent. Barbara Holland evokes their energy in this unconventional book that will acquaint you with the likes of Grace O'Malley, a blazing terror of the Irish seas in the 1500s, and surprise you with a fresh perspective on legends like Bonnie Parker of "Bonnie and Clyde" fame. With wit, wisdom, and irreverent flair, They Went Whistling makes a compelling case for the virtue of getting into trouble.
About the Author
Barbara Holland is the author of several books, including
Endangered Pleasures. She lives in western Loudon County, Virginia.
Praise For They Went Whistling: Women Wayfarers, Warriors, Runaways, and Renegades…
"Deliciously ironic, reliably brainy, steadily informative…a jubilant hop, skip and jump toward rectifying the omission of women from the historical record."–Star Tribune (Minneapolis)

"With humor and style, Holland reveals lives fraught with excitement, danger, passion [and] intrigue."–USA Today

"Deliciously ironic, reliably brainy, steadily informative . . . a jubilant hop, skip and jump toward rectifying the omission of women from the historical record." –Star Tribune (Minneapolis)

"With humor and style, Holland reveals lives fraught with excitement, danger, passion [and] intrigue." –USA Today

"Luxuriating in tales worth retelling . . . [Holland] gives herself free rein to speak her mind and break the rules." –The Washington Post