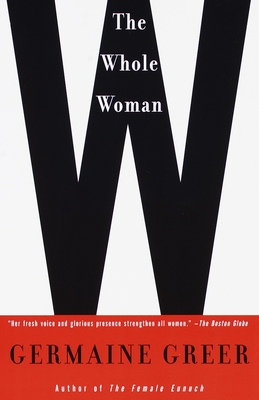 The Whole Woman (Paperback)
Anchor Books, 9780385720038, 384pp.
Publication Date: August 8, 2000
Description
Thirty years after the publication of The Female Eunuch, Germaine Greer is back with the sequel she vowed never to write. "A marvelous performance--. No feminist writer can match her for eloquence or energy; none makes us] laugh the way she does."--The Washington Post In this thoroughly engaging new book, the fervent, rollicking, straight-shooting Greer, is, as ever, "the ultimate agent provocateur" (Mirabella). With passionate rhetoric, outrageous humor, and the authority of a lifetime of thought and observation, she trains a sharp eye on the issues women face at the turn of the century. From the workplace to the kitchen, from the supermarket to the bedroom, Greer exposes the innumerable forms of insidious discrimination and exploitation that continue to plague women around the globe. She mordantly attacks "lifestyle feminists" who blithely believe they can have it all, and argues for a fuller, more organic idea of womanhood. Whether it's liposuction or abortion, Barbie or Lady Diana, housework or sex work, Greer always has an opinion, and as one of the most brilliant, glamorous, and dynamic feminists of all time, her opinions matter. For anyone interested in the future of womanhood, The Whole Woman is a must-read.
About the Author
Germaine Greer's books include The Female Eunuch; The Obstacle Race; Sex and Destiny; The Madwoman's Underclothes; Daddy, We Hardly Knew You; The Change; and Slip-Shod Sibyls. She is Professor of English and Comparative Literary Studies at Warwick University, England.
Praise For The Whole Woman…
"Compulsively readable."--San Francisco Chronicle

"Right on."--Los Angeles Times

"She is deliberately irate and humorous, challenging and disarming as she seeks to undermine firmly held beliefs."--Newsday
Advertisement