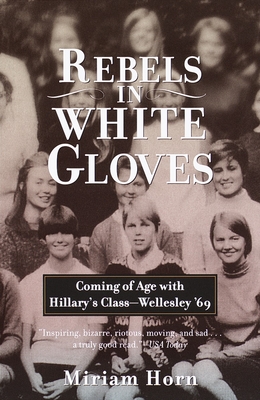 Rebels in White Gloves: Coming of Age with Hillary's Class--Wellesley '69 (Paperback)
Coming of Age with Hillary's Class--Wellesley '69
Anchor Books, 9780385720182, 368pp.
Publication Date: May 16, 2000
* Individual store prices may vary.
or
Not Currently Available for Direct Purchase
Description
When the women of the Wellesley class of 1969 entered the ivory tower, they were initiated into a rarefied world. Many were daughters of privilege, many were going for their "MRS." But by the time they graduated four years later, they faced a world turned upside down by the Pill, NOW, student protests, the counterculture, and the Vietnam War.
In this social history, Miriam Horn retraces the lives of women caught on a historic cusp. This generation was the first to test-drive modern rules that remain complicated and contentious regarding sexuality, marriage, motherhood, paid work, spirituality, aging, and the difficulties of reconciling public and private life. The result is a story of uncommon subtleties and vibrancy that reflects this generation's fateful choices.
About the Author
Miriam Horn writes for U.S. News and World Report. She lives in New York City with her husband.
Praise For Rebels in White Gloves: Coming of Age with Hillary's Class--Wellesley '69…
"Inspiring, bizarre, riotous, moving, and sad . . . a truly good read."--USA Today

"Unpredictable and fresh. . . . Like the experience of their most famous classmate, the lives of these Wellesley College graduates remind us how much and how little has changed for women during the past thirty years."  --People

"Searching, sensitive. . . . That old feminist catchphrase 'the personal is the political' echoes throughout the book with a mature grasp of nuance and contradiction." --Newsday

"Engrossing . . . finely etched. . . . Horn turns a group portrait into a meditation on woman's essential nature, her proper place and role." --The New York Times Book Review

"Excellent. . . . A laudably even-handed account." --The Wall Street Journal

"A vivid and often humorous capsule history of the women who helped revolutionize America." --Cokie Roberts, author of We Are Our Mothers' Daughters
Advertisement