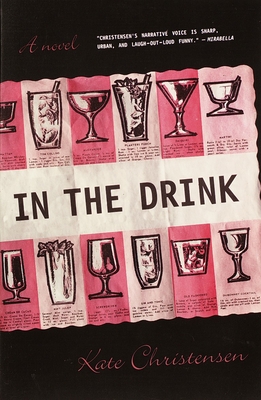 In the Drink (Paperback)
Anchor Books, 9780385720212, 288pp.
Publication Date: August 1, 2000
Description
In this compassionate, wise, and comical debut, Kate Christensen gives an engaging and authentic voice to a new generation of single urban women.
Claudia Steiner never intended for her life to become such a disaster. At the age of twenty-nine she finds herself serving as secretary to an insane, aging socialite who barks orders from her toilet, specializes in devastating backhanded remarks, and expects Claudia to ghostwrite her best-selling novels. Her job pays enough to keep her in overpriced cocktails, cabs, and take-out but doesn't cover the rent on her roach-infested apartment or keep her creditors at bay. Her romantic prospects are no better. She's hopelessly in love with her best friend, a corporate lawyer who may or may not be gay, and she's still relentlessly pursued by her ex-lover, a married unpublished epic poet. All Claudia can rely on--aside from her wry sense of humor and her faith in the medicinal properties of whiskey--is a persistent little flame of belief in herself, which gives her the glimmer of a chance for a happy ending.
About the Author
Kate Christensen lives in the Williamsburg section of Brooklyn.
Praise For In the Drink…
"At a time when authors are penning best-selling memoirs about their alcoholic torment, and 12-step programs are as popular as SUVs, Christensen's take is refreshing."--The New York Post

"[T]he freshest anti-heroine I've read in a long time. This is no depressing drunk-noir; it's a great description of real life--the good, the manageable, and the awful."--Jane

"[A] breezy and confident first novel."--The New York Times Book Review
Advertisement