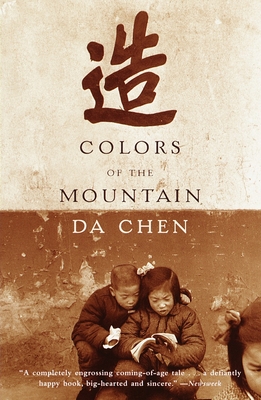 Colors of the Mountain (Paperback)
Anchor, 9780385720601, 320pp.
Publication Date: January 16, 2001
* Individual store prices may vary.
Description
Colors of the Mountain is a classic story of triumph over adversity, a memoir of a boyhood full of spunk, mischief, and love, and a welcome introduction to an amazing young writer.

Da Chen was born in 1962, in the Year of Great Starvation. Mao Zedong's Cultural Revolution engulfed millions of Chinese citizens, and the Red Guard enforced Mao's brutal communist regime. Chen's family belonged to the despised landlord class, and his father and grandfather were routinely beaten and sent to labor camps, the family of eight left without a breadwinner. Despite this background of poverty and danger, and Da Chen grows up to be resilient, tough, and funny, learning how to defend himself and how to work toward his future. By the final pages, when his says his last goodbyes to his father and boards the bus to Beijing to attend college, Da Chen has become a hopeful man astonishing in his resilience and cheerful strength.
About the Author
Da Chen is a graduate of Columbia University Law School, which he attended on full scholarship. A brush calligrapher of considerable spirituality who also plays the classical bamboo flute, he lives in New York's Hudson Valley with his wife and two children.
Praise For Colors of the Mountain…
"A completely engrossing coming-of-age tale…a defiantly happy book, big-hearted and sincere."—Newsweek
 
"This is a mad sad story with soul and spirituality. A child rises to man in these pages, forgiving those who did him ill, and tells his story with compassion and warm humor. Read this book and cheer a child who triumphes over the darkness and indeed becomes a beacon." –Malachy McCourt
 
"A story about suppression, humiliation, vindication and, ultimately, triumph."—The New York Times Book Review
 
"Here is that rarity in these times, a truly marvelous book…big-hearted and humorous, written in simple, evocative prose."—The Denver Post