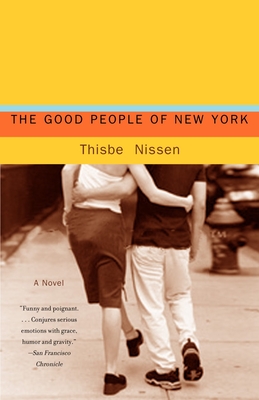 The Good People of New York (Paperback)
Anchor, 9780385720618, 304pp.
Publication Date: May 7, 2002
* Individual store prices may vary.
Description
When Roz Rosenzweig meets Edwin Anderson fumbling for keys on the stoop of a Manhattan walk-up, the last thing on her mind is falling for a polite Nebraskan–yet fall for him she does. So begins Thisbe Nissen's breathtaking debut novel, a decidedly urban fairy tale that follows Roz and Edwin as they move from improbable courtship to marriage to the birth of daughter Miranda–the locus of all Roz's attention, anxiety, and often smothering affection.
As Miranda comes of age and begins to chafe against the intensity of her mother's neurotic love, Roz must do her best to let those she cherishes move into the world without her. On crowded subways, in strange bedrooms, at Bar Mitzvahs, in brownstone basements and high school gymnasiums, Nissen's unforgettable characters make their hilarious and wrenching way–and prove, indeed, that good things thrive in New York City.
About the Author
Thisbe Nissen is a graduate of the Iowa Writers' Workshop and a former James Michener Fellow. She is the author of Out of the Girls' Room and into the Night, and her stories have appeared in Story and Seventeen. A native New Yorker, she now lives in Iowa.
Praise For The Good People of New York…
"By turns funny and poignant. . . . Conjures serious emotions with grace, humor and gravity." –San Francisco Chronicle

"Funny and tender . . . Nissen is a perceptive writer with a wry sensibility."–Chicago Tribune

"Light-hearted but not 'lite,' sweet-natured but never sentimental." –TheBaltimore Sun

"A delightful novel . . . Aptly incorporates all of the sizzle, sorrow, and sporadic elation that a screwed-up family encounter. Nissen has spun an enticing story one wants to lap up whole." –The Boston Phoenix
or
Not Currently Available for Direct Purchase