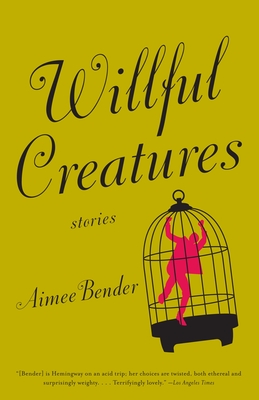 Willful Creatures (Paperback)
Anchor Books, 9780385720977, 208pp.
Publication Date: August 8, 2006
Description
"Contemporary fairy tales, cushioned by goofy humor and a deep tenderness for her characters, that aren't always as dark or as sinister as they initially appear." --The New York Times Book Review
Aimee Bender's Willful Creatures conjures a fantastical world in which authentic love blooms. This is a place where a boy with keys for fingers is a hero, a woman's children are potatoes, and a little boy with an iron for a head is born to a family of pumpkin heads. With her singular mix of surrealism, musical prose, and keenly felt emotion, Bender once again proves herself to be a masterful chronicler of the human condition.
About the Author
Aimee Bender is the author of the novelsThe Particular Sadness of Lemon Cake aNew York Timesbestseller andAn Invisible Sign of My Own, and of the collectionsThe Girl in the Flammable SkirtandWillful Creatures. Her works have been widely anthologized and have been translated into sixteen languages. She lives in Los Angeles."
Praise For Willful Creatures…
"[Bender] is Hemingway on an acid trip; her choices are twisted, both ethereal and surprisingly weighty. . . . Terrifyingly lovely." –Los Angeles Times "New, exciting, harsh, rugged and unyielding. . . . Every sentence in [Willful Creatures] is a fresh surprise." –The Washington Post"Contemporary fairy tales, cushioned by goofy humor and a deep tenderness for her characters, that aren't always as dark or as sinister as they initially appear." –The New York Times Book Review "These are stories that you'll read with a sense of discovery and wonder. You'll re-read them just for their beauty." –The Denver Post "To curl up with an Aimee Bender story is to thank heaven you ever learned to read in the first place. . . . What a treat to spend 15 stories in Bender's vast and wonderfully unhinged imagination." –Entertainment Weekly Contemporary fairy tales, cushioned by goofy humor and a deep tenderness for her characters, that aren't always as dark or as sinister as they initially appear." –The New York Times Book Review "These are stories that you'll read with a sense of discovery and wonder. You'll re-read them just for their beauty." –The Denver Post "I am a long-standing, passionate fan of Aimee Bender's stories. Her images explode, her words ignite. Watching her imagination catch fire remains a sustaining joy in my readerly life."–Alice Sebold, author of The Lovely Bones
Advertisement