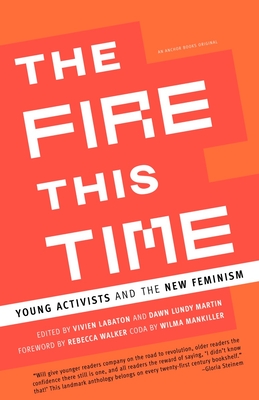 The Fire This Time: Young Activists and the New Feminism (Paperback)
Young Activists and the New Feminism
Anchor Books, 9780385721028, 384pp.
Publication Date: May 18, 2004
* Individual store prices may vary.
or
Not Currently Available for Direct Purchase
Description
Young feminists today are becoming activists on behalf of many causes beyond the classic and indispensable--feminist ones of reproductive rights and equal pay for equal work. In The Fire This Time, Dawn Martin, one of four founders of The Third Wave Foundation--a multiracial, multi-issue, and multicultural activist organization--and Vivien Labaton, its first executive director, offer an exciting cross section of feminist voices that express new directions in activism, identity, and thought. Ayana Bird dissects the role of black women in hip-hop; Joshua Breitbart and Ana Noguiera demonstrate how Indimedia can break the hold of the corporate media over the news; and Jennifer Bleyer reviews the exhilarating power unleashed by the GirlZine movement. Anna Kirkland's analysis of transsexual and transgendered people and the law is deeply thoughtful, and Shireen Lee's piece on women, technology, and feminism envisions empowering prospects for women..
Ranging from media and culture to politics and globalization, The Fire This Time is a call to new frontiers of activism, and helps reinvent feminism for a new generation.
About the Author
Vivien Labaton is a third-year law student at New York University Law School. She was the founding Director of the Third Wave Foundation, the only national young feminist organization in the country, and currently serves on the boards of Third Wave, Political Research Associates, and the Women s Funding Network. She lives in Brooklyn, New York Dawn Lundy Martin is one of four cofounders of the Third Wave Foundation. She has a long history of activism in anti-war, queer rights, and environmental justice movements. A Ph.D. candidate in English at the University of Massachusetts in Amherst, she is also an award-winning poet and author of the chapbook, The Morning Hour. She lives in Northampton, Massachusetts."
Praise For The Fire This Time: Young Activists and the New Feminism…
"The Fire This Time will give younger readers company on the road to revolution, older readers the confidence there still is one, and all readers the reward of saying, 'I didn't know that!' This landmark anthology belongs on every twenty-first century bookshelf."
–Gloria Steinem

"This first-rate collection of writings by young activists represents the new wave of gender, race and class analysis for the twenty-first century."–Manning Marable, Director, Center for Contemporary Black History, Columbia University

"This collection, by an extraordinary bunch of young people—mostly women, a few men—will awaken you and excite you. What they are writing and doing gives new life to the word "feminist." If their ideas and actions take hold, we could have a different world." –Howard Zinn, author of A People's History of The United States

"These feminists rock."–Eric Schlosser, author of Fast Food Nation

"These essays don't simply tell us about third wave feminism, they show us its breadth and impact. By the end of The Fire This Time you will have a better understanding of the activism that's required to change the world." –Jennifer Baumgardner & Amy Richards, coauthors, Manifesta: Young Women, Feminism and The Future

"These voices give us hope that the new wave of activists are not just invigorating the movement for future generations, but making significant gains in social justice at the same time. The Fire This Time is strong and optimistic; a powerful organizing tool that I'll keep on my desk for years to come." –Sunita Mehta, editor, Women for Afghan Women

"A feast of original insights and radical acts by some of our generation's sharpest writers and doers." –William Upski Wimsatt, co-editor, How to Get Stupid White Men Out of Office
Advertisement