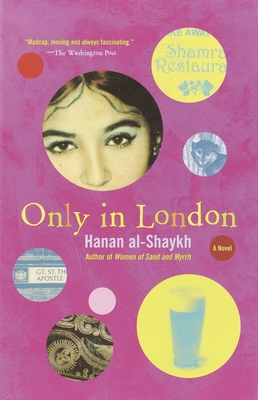 Only in London (Paperback)
Anchor Books, 9780385721219, 288pp.
Publication Date: October 8, 2002
Description
Four strangers meet on a turbulent flight from Dubai to London: Amira, a canny Moroccan prostitute; Lamis, a 30-year old Iraqi divorcee; Nicholas, an English expert on Islamic art; and Samir, a Lebanese man who is delivering a monkey on a mission he doesn't fully understand. Once safely on British soil, Lamis and Nicholas fall in love, Samir chases after blond British youths, and Amira reinvents herself as a princess, the better to lure clients at the best London hotels. Through the city and across cultural borders, Only in London wittily portrays the smells, sounds, and sights of London's lively Arab neighorhoods, as well as the freedoms the city both offers and withholds from its immigrants.
About the Author
Hanan al-Shaykh was born and raised in Lebanon. She is the author of three novels--Women of Sand and Myrrh, The Story of Zahra, and Beirut Blues--as well as a collection of short stories, I Sweep the Sun Off Rooftops. She currently lives in London with her husband and two children.
Praise For Only in London…
"Madcap, moving and always fascinating." --The Washington Post

"As the story follows their adventures, some comic, some pathetic, each character finds a different London....[al-Shaykh's] novel is funny and beautifully written. She has a perfect ear for dialogue and tone." —Sunday Telegraph

"For all its deceptive lightness of touch, the novel teems with ideas: memory and exile, language, desire and identity, and the search for order in the chaos of a metropolis. It is also very funny. London...allows Shaykh to exercise her trenchant, at times ribald, wit." —Literary Review

"Only in London offers an exquisite perspective of estrangement and recognition." —The Observer

Advertisement