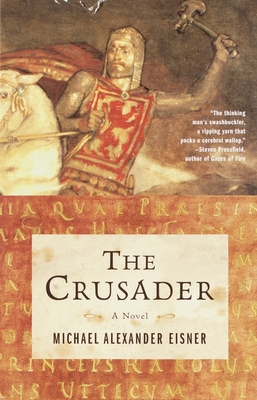 The Crusader (Paperback)
Anchor Books, 9780385721417, 336pp.
Publication Date: January 7, 2003
* Individual store prices may vary.
or
Not Currently Available for Direct Purchase
Description
A knight possessed by demons, an ambitious monk skilled in exorcism, and a bloody Crusade that ends in a terrible siege lie at the heart of Michael Alexander Eisner's action-packed medieval adventure of Christian warriors and Muslim infidels in the Holy Land.

Francisco de Montcada, the young Spanish heir to a vast family fortune, returns from the Crusades a gaunt shell of a man, rendered speechless by the horrors he has witnessed. As his friend Brother Lucas draws out his story, Francisco relates a gripping tale of fierce battles, cruel betrayals, and religious zealots. A first-rate novel of disquieting contemporary relevance, The Crusader captures with impressive style and historical authenticity the ghastly deeds men pursue in the name of God.
About the Author
Michael Alexander Eisner is a graduate of Yale University and Yale Law School. After college he worked in a refugee camp on the Thai-Cambodian border, and he was in Chile during the transition from Pinochet's rule to democracy. An expert in international law, he worked on the Middle East peace process as a lawyer for the State Department. He lives in Brooklyn.
Praise For The Crusader…
"The thinking man's swashbuckler, a ripping yarn that packs a cerebral wallop." –Steven Pressfield, author of Gates of Fire

"Exceptional . . . a picturesque 13th-century adventure story. . . . Meticulously researched. . . . Remarkably drawn. . . . Eisner captures the massacres, decapitations, looting and pillaging that characterized the Crusades, but also works in tender depictions of love and loss, as well as ruminations on the complexity and hypocrisy of church politics, the possibility of redemption and the limits of faith." –The Atlanta Journal-Constitution

"An adventure story in the purest sense of the word, complete with a brooding hero, the beautiful woman he loves, and a despicable villain. . . . Thrilling and gripping, The Crusader is everything an adventure story should be." –Booklist, starred review

"A swashbuckling tale of sword fights, imprisonment and romance." –The Denver Post

"[A] story of multiple betrayals . . . steeped in romanticism and chivalry. . . . Eisner's industrious research is apparent, which makes The Crusader quite believable entertainment. And belief is so much the crux of this novel." –Daily News (New York)

"A devilishly convoluted tale, part The Name of the Rose and part Errol Flynn swashbuckler. . . . Just the sort of yarn to bewitch your inner Christian soldier." –Elle

"This magnificent novel brings the 13th century charging full-tilt into our own world. . . . Prepare to be thunderstruck." –Harpers & Queen

"A sweeping debut." –The New York Observer

"Engrossing . . . a first-rate historical novel, richly imagined and plainly written. . . . Meticulously researched and artfully told, this is a historical novel that illuminates as it entertains." –Publishers Weekly

"Impressive. . . . Francisco himself is an extraordinary character." –The Independent on Sunday

"Don't miss The Crusader. It is a fascinating, complex novel: a historical piece, a mystery and a love story wrapped into one. It is one of the best novels of the year and one of the best historical novels ever. . . . Eisner makes the time period come alive. He paints a picture of 13th century Syria and the terrible wars that will long be with you." –The Daily American (Somerset, PA)

"A fine retelling of the travels and battles of . . . a young Spanish knight intent on laying to rest the spirit of his dead brother." –Condé Nast Traveler

"Well-researched and as captivating as a good swashbuckling adventure story. . . . This novel is one you'll read from beginning to end because you can't help yourself. . . . Eisner's intelligently written and well-researched novel pounds home the villainy and vice of the Crusades, gloves off." –Times Record News (Wichita Falls, TX)
Advertisement