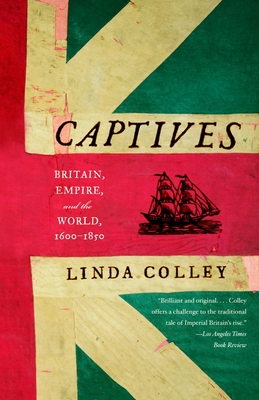 Captives
Britain, Empire, and the World, 1600-1850
Paperback

* Individual store prices may vary.
Description
In this path-breaking book Linda Colley reappraises the rise of the biggest empire in global history. Excavating the lives of some of the multitudes of Britons held captive in the lands their own rulers sought to conquer, Colley also offers an intimate understanding of the peoples and cultures of the Mediterranean, North America, India, and Afghanistan.

Here are harrowing, sometimes poignant stories by soldiers and sailors and their womenfolk, by traders and con men and by white as well as black slaves. By exploring these forgotten captives – and their captors – Colley reveals how Britain's emerging empire was often tentative and subject to profound insecurities and limitations. She evokes how British empire was experienced by the mass of poor whites who created it. She shows how imperial racism coexisted with cross-cultural collaborations, and how the gulf between Protestantism and Islam, which some have viewed as central to this empire, was often smaller than expected. Brilliantly written and richly illustrated, Captives is an invitation to think again about a piece of history too often viewed in the same old way. It is also a powerful contribution to current debates about the meanings, persistence, and drawbacks of empire.
Praise For Captives: Britain, Empire, and the World, 1600-1850…
"Brilliant and original. . . . Colley offers a challenge to the traditional tale of Imperial Britain's rise." —Los Angeles Times Book Review

"Brilliantly corrective. . . . a book of wise topicality." —Julian Barnes, Times Literary Supplement

"Illuminating. . . . Colley shows how the stories of British captives helped shape the literature, politics and public opinion of the time." —The Washington Post Book World

"This is a scholarly book that deserves a popular success, and what it amounts to is a revisionist history of the British empire itself. . . . provocative and indeed brilliant." —The Boston Globe

"This is the kind of history book that could not have been written a generation ago . . . Linda Colley . . . is a completely original intelligence." —Financial Times

"Engaging, gracefully written. . . . Sharp-eyed. . . . There is marvelous detail on every page." —The New York Times Book Review

"Captives is another important and beautifully written book by this first-rank British historian."—Irish Times

"A sort of White Teeth version of imperial history. . . . A completely original intelligence."—The Financial Times

"A brilliantly illuminating study by one of Britain's most distinguished historians."—New Statesman

"Consistently enlightening. . . . An insightful and stimulating book that presents history with a fresh perspective." —BookPage

"Innovative…. Colley brings a contemporary edge to her writing… [She is] one of the most interesting historians at work today." —Wilson Quarterly

"Colley's fascinating book links captivity with imperial expansion and underscores the Britons' ultimate dependence on loyal 'natives.'" —The New York Review of Books

"Captives is an invitation to think again about an old story too often told in the same old way… It is a book which should alter the way in which the history not only of the British, but of all the European empires is written." —London Review of Books

"Superb… coruscating." —Independent on Sunday (London)

"Abounds in fascinating human stories and constantly requires the reader to reconsider accepted dogma." —Daily Telegraph (London)

"Sublimely well written: cunningly paced, beguilingly fluent, deftly allusive, vividly evocative. It is a major contribution to understanding the paradox of the British: the weak who wangled the earth." —Literary Review

"Linda Colley is a great storyteller and she breathes life into the manuscripts she has discovered by captives in the early days of the Empire." —The Observer (London)

"Dexterous, wonderfully subtle." —The Sunday Times

"This fine, thought-provoking book – at once readable and educative – is crammed full of telling insights." —Sunday Telegraph

"Stunningly revisionist… Almost every page of Captives challenges a settled orthodoxy or opens up a fertile new field for research." —History Today
Anchor, 9780385721462, 464pp.
Publication Date: January 6, 2004
About the Author
Born in Britain, Linda Colley has taught and written on history and current events on both sides of the Atlantic. Previously at Cambridge, Yale, and the London School of Economics, she is now Shelby M.C. Davis 1958 Professor of History at Princeton University. Her previous books include In Defiance of Oligarchy: The Tory Party, 1714-1760, Namier, and Britons: Forging the Nation, 1707-1837, for which she won the Wolfson Prize.
or
Not Currently Available for Direct Purchase