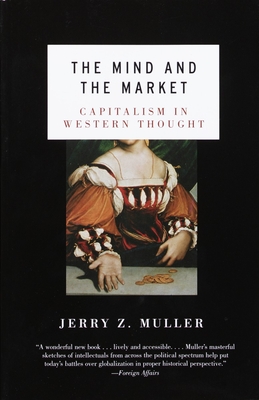 The Mind and the Market: Capitalism in Modern European Thought (Paperback)
Capitalism in Modern European Thought
Anchor Books, 9780385721660, 487pp.
Publication Date: November 11, 2003
Description
Capitalism has never been a subject for economists alone. Philosophers, politicians, poets and social scientists have debated the cultural, moral, and political effects of capitalism for centuries, and their claims have been many and diverse. The Mind and the Market is a remarkable history of how the idea of capitalism has developed in Western thought.
Ranging across an ideological spectrum that includes Hobbes, Voltaire, Adam Smith, Edmund Burke, Hegel, Marx, and Matthew Arnold, as well as twentieth-century communist, fascist, and neoliberal intellectuals, historian Jerry Muller examines a fascinating thread of ideas about the ramifications of capitalism and its future implications. This is an engaging and accessible history of ideas that reverberate throughout everyday life.
About the Author
Jerry Z. Muller is Professor of History at the Catholic University of America in Washington, D.C. He is the author of The Other God That Failed: Hans Freyer and the Deradicalization of German Conservatism, Adam Smith in His Time and Ours: Designing the Decent Society, and Conservatism: An Anthology of Social and Political Thought from David Hume to the Present. He lives in Silver Spring, Maryland.
Praise For The Mind and the Market: Capitalism in Modern European Thought…
"A magisterial contribution to the history of ideas."—Peter L. Berger, Institute for the Study of Economic Culture

"Comprehensive, lucidly analytical, and splendidly, admirably objective."—Howard M. Sachar, author of A History of Israel and Dreamland: Europeans and Jews in the Aftermath of the Great War

"Thanks to Muller's sensitive and critical guidance, we come away knowing the subject far better than would otherwise be possible."—David S. Landes, author of The Wealth and Poverty of Nations

Advertisement