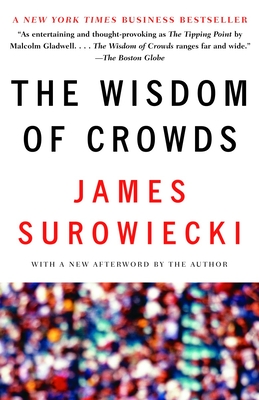 The Wisdom of Crowds
Paperback

* Individual store prices may vary.
Other Editions of This Title:
Digital Audiobook (2/8/2004)
Digital Audiobook (5/24/2004)
Description
In this fascinating book, New Yorker business columnist James Surowiecki explores a deceptively simple idea: Large groups of people are smarter than an elite few, no matter how brilliant—better at solving problems, fostering innovation, coming to wise decisions, even predicting the future.
With boundless erudition and in delightfully clear prose, Surowiecki ranges across fields as diverse as popular culture, psychology, ant biology, behavioral economics, artificial intelligence, military history, and politics to show how this simple idea offers important lessons for how we live our lives, select our leaders, run our companies, and think about our world.
Praise For The Wisdom of Crowds…
"As entertaining and thought-provoking as The Tipping Point by Malcolm Gladwell.... The Wisdom of Crowds ranges far and wide." –The Boston Globe"A fun, intriguing read–and a concept with enormous potential for CEOs and politicos alike." –Newsweek"This book is not just revolutionary but essential reading for everyone."–Christian Science Monitor"Provocative....Musters ample proof that the payoff from heeding collective intelligence is greater than many of us imagine." –BusinessWeek"There's no danger of dumbing down for the masses who read this singular book." –Entertainment Weekly"Clearly and persuasively written." –Newsday"Convincingly argues that under the right circumstances, it's the crowd that's wiser than even society's smartest individuals. New Yorker business columnist Surowiecki enlivens his argument with dozens of illuminating anecdotes and case studies from business, social psychology, sports and everyday life." –Entertainment Weekly"The author has a knack for translating the most algebraic of research papers into bright expository prose." –The New York Times Book Review"Dazzling . . . one of those books that will turn your world upside down. It's an adventure story, a manifesto, and the most brilliant book on business, society, and everyday life that I've read in years." –Malcolm Gladwell, author of The Tipping Point "Surowiecki's clear writing and well-chosen examples render complicated mathematical and sociological theories easy to grasp. . . . [His] accounts of how the wisdom of crowds has formed the world we live in will thrill trivia mavens–and may make a better investor (or football coach) out of anyone who takes its conclusions to heart." –Time Out New York"This book should be in every thinking businessperson's library. Without exception." –Po Bronson, author of What Should I Do With My Life?
"Drawing from biology, behavioral economics, and computer science, Surowiecki offers answers to such timeless–and often rhetorical–questions as "Why does the line you're standing in always seem to move the slowest?" and "Why is there so much garbage on TV?" The result is a highly original set of conclusions about how our world works." –Seed Magazine"As readers of Surowiecki's writings in The New Yorker will know, he has a rare gift for combining rigorous thought with entertaining example. [The Wisdom of Crowds] is packed with amusing ideas that leave the reader feeling better-educated." –Financial Times (London)"The book is deeply researched and well-written, and the result is a fascinating read." –Deseret Morning News"Jim Surowiecki has done the near impossible. He's taken what in other hands would be a dense and difficult subject and given us a book that is engaging, surprising, and utterly persuasive. The Wisdom of Crowds will change the way you think about markets, economics, and a large swatch of everyday life." –Joe Nocera, editorial director of Fortune magazine and author of A Piece of the Action "Makes a compelling case." –The Gazette (Montreal)"Deftly compressing a small library's worth of research into a single slim and readable volume, the Financial Page columnist at The New Yorker makes his bid to capture the zeitgeist as his colleague Malcolm Gladwell did with The Tipping Point. . . . The author has produced something surprising and new: a sociological tract as gripping as a good novel." –Best Life"Surowiecki is a patient and vivid writer with a knack for telling examples." –Denver Post "Most crowds of readers would agree that Jim Surowiecki is one of the most interesting journalists working today. Now he has written a book that will exceed even their expectations. Anyone open to re-thinking their most basic assumptions–people who enjoyed The Tipping Point, say–will love this book." –Michael Lewis, author of Moneyball
"Surowiecki's is a big-idea book." –Salon.com"It has become increasingly recognized that the average opinions of groups is frequently more accurate than most individuals in the group. The author has written a most interesting survey of the many studies in this area and discussed the limits as well as the achievements of self-organization." –Kenneth Arrow, winner of the Nobel Prize in Economics and Professor of Economics (Emeritus), Stanford University"Clever and surprising.... The originality and sheer number of demonstrations of the impressive power of collective thinking provided here are fascinating, and oddly comforting." –Bookforum"An illuminating book." –Detroit Free Press
Anchor, 9780385721707, 336pp.
Publication Date: August 16, 2005
About the Author
James Surowiecki is a staff writer at The New Yorker, where he writes the popular business column, "The Financial Page." His work has appeared in a wide range of publications, including the New York Times, the Wall Street Journal, Artforum, Wired, and Slate. He lives in Brooklyn, New York.
www.wisdomofcrowds.com