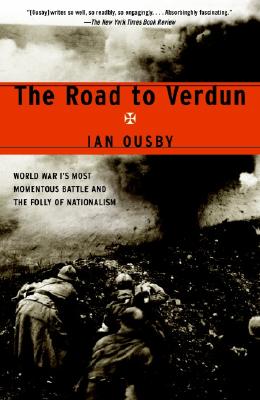 The Road to Verdun: World War I's Most Momentous Battle and the Folly of Nationalism (Paperback)
World War I's Most Momentous Battle and the Folly of Nationalism
Anchor, 9780385721738, 432pp.
Publication Date: June 10, 2003
* Individual store prices may vary.
or
Not Currently Available for Direct Purchase
Description
On February 21, 1916, the Germans launched a surprise offensive at Verdun, an important fortress in northeastern France, sparking a brutal and protracted conflict that would claim more than 700,000 victims. The carnage had little impact on the course of the war, and Verdun ultimately came to symbolize the absurdity and horror of trench warfare.
Ian Ousby offers a radical reevaluation of this cataclysmic battle, arguing that the French bear tremendous responsibility for the senseless slaughter. He shows how the battle's roots lay in the Franco-Prussian war and how its legacy helped lay the groundwork for World War II. Merging intellectual substance with superb battle writing, The Road to Verdun is a moving and incisive account of one of the most important battles of the twentieth century.
About the Author
Ian Ousby was the author of several books, including The Cambridge Guide to Literature in English and Occupation: The Ordeal of France 1940-1944, which won the 1997 Edith McLeod Literary Prize, given annually to the British book that has contributed the most to Franco-British understanding, and the 1997 Stern Silver PEN Award for Nonfiction. He passed away in August 2001."
Praise For The Road to Verdun: World War I's Most Momentous Battle and the Folly of Nationalism…
"Ousby writes so well, so readably, so engagingly . . . the murderous tragedy he has staged for us proves absorbingly fascinating." —The New York Times Book Review

"An excellent and absorbing book."—National Review

"Richly textured; [Ousby] has an especially keen eye." —Chicago Tribune

"An outstanding book, rich in its insights, and written with verve and style."—The Guardian

"Studded with quotable and memorable descriptions of the horrors of the battle."—Times (London)

"A clear and vivid account of both the military and the political intricacy of the battle."—Saturday Times (London)

"A brilliant study."—Scotsman

"An assured work which steps well beyond the narrow and constricting boundaries of military history. . . .Altogether more significant than a mere dry account of a battle of attrition would have been. . . . Harrowing."—The Sunday Herald

"A story that still has the power to shock and horrify . . . Consistently intelligent and readable. . . . An engaging and important book." —New Statesman

"Ousby vividly brings the horrors of battle to life using the personal accounts of ordinary people who fought at Verdun." —The Spectator

"A triumph. . . A must for any modern world history buff."—Publishers Weekly (starred)

"A splendid account. . . Informed and erudite, lucid and sanguinary." —Kirkus Reviews


Advertisement