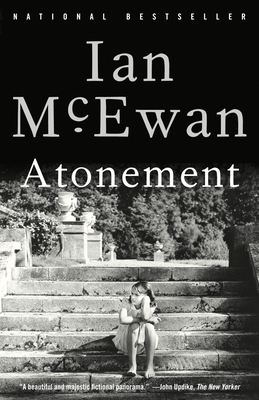 Atonement (Paperback)
A Novel
Anchor, 9780385721790, 368pp.
Publication Date: February 25, 2003
Other Editions of This Title:
Hardcover (3/12/2002)
Hardcover (6/17/2014)
Paperback, French (2/1/2005)
Paperback (5/1/2002)
Mass Market Paperback (11/27/2007)
Paperback (11/6/2007)
Paperback (8/1/2007)
Compact Disc (1/15/2005)
Paperback (8/1/2011)
Compact Disc (9/20/2007)
Paperback (2/1/2008)
* Individual store prices may vary.
Description
National Bestseller 

Ian McEwan's symphonic novel of love and war, childhood and class, guilt and forgiveness provides all the satisfaction of a brilliant narrative and the provocation we have come to expect from this master of English prose.

On a hot summer day in 1935, thirteen-year-old Briony Tallis witnesses a moment's flirtation between her older sister, Cecilia, and Robbie Turner, the son of a servant and Cecilia's childhood friend. But Briony' s incomplete grasp of adult motives–together with her precocious literary gifts–brings about a crime that will change all their lives. As it follows that crime's repercussions through the chaos and carnage of World War II and into the close of the twentieth century, Atonement engages the reader on every conceivable level, with an ease and authority that mark it as a genuine masterpiece.
About the Author
Ian McEwan is the bestselling author of more than ten books, including the novels The Comfort of Strangers and Black Dogs, both shortlisted for the Booker Prize, Amsterdam, winner of the Booker Prize, and The Child in Time, winner of the Whitbread Award, as well as the story collections First Love, Last Rites, winner of the Somerset Maugham Award, and In Between the Sheets. He has also written screenplays, plays, television scripts, a children's book, and the libretto for an oratorio. He lives in London.
Praise For Atonement: A Novel…
"A beautiful and majestic fictional panorama." —John Updike, The New Yorker

"Flat-out brilliant. . . . Lush, detailed, vibrantly colored and intense." —San Francisco Chronicle

"A tour de force. . . . Every bit as affecting as it is gripping." —Michiko Kakutani, The New York Times

"Luminous. . . . Atonement is brilliant and like nothing he's ever written before." —Newsweek

"No one now writing fiction in the English language surpasses Ian McEwan." —The Washington Post Book World

"Brilliant. . . . McEwan could be the most psychologically astute writer working today, our era's Jane Austen." —Esquire

"A work of astonishing depth and humanity." —The Economist

"His most complete and passionate book to date." —The New York Times Book Review

"In the seriousness of its intentions and the dazzle of its language, Atonement made me starry-eyed all over again on behalf of literature's humanizing possibilities." —Daphne Merkin, Los Angeles Times

"Resplendent. . . . Graceful. . . . Magisterial. . . . Gloriously realized." —The Boston Sunday Globe

"McEwan is technically at the height of his powers." —The New York Review of Books

"Astonishing . . . [with] one of the most remarkable erotic scenes in modern fiction. . . . [It] is something you will never forget." —Chicago Tribune

"Enthralling. . . . With psychological insight and a command of sensual and historical detail, Mr. McEwan creates an absorbing fictional world." —The Wall Street Journal

"[Atonement] hauls a defining part of the British literary tradition up to and into the 21st century." —The Guardian

"Astonishing. . . . Gorgeous. . . . Bewitching. . . . A thought-provoking, luxuriant novel." —Minneapolis Star Tribune

"McEwan is one of the most gifted literary storytellers alive. . . . [Atonement] implants in the memory a living, flaming presence." —James Wood, The New Republic

"[McEwan's] best novel so far. . . . It will break your heart." —The Star (Toronto)

"A masterpiece of moral inquiry. . . . Beautiful and wrenching." —New York

"A first-rate novel on any scale. . . . His most expansive and ambitious book. . . . Few, if any, novelists writing today match McEwan in ingenuity and plotting." —Milwaukee Journal Sentinel

"Magnificent. . . . McEwan forces his readers to turn the pages with greater dread and anticipation than does perhaps any other 'literary' writer working in English today." —Claire Messud, The Atlantic Monthly

"The extraordinary range of Atonement suggests that there's nothing McEwan can't do." —The Christian Science Monitor

"Magically readable. . . . Never has McEwan shown himself to be more in sympathy with the vulnerability of the human heart." —Sunday Times (London)

"Magnificent. . . . Suspenseful, psychologically astute and intellectually bracing." —Newsday

"Not since the 19th century has a writer stepped in and out of his characters' minds with such unfettered confidence." —The Plain Dealer

"A novel of artistry, power and truth that puts it among the most extraordinary works of fiction of the last decade. . . . It is, quite simply, magnificent–a masterpiece."  —Michael Pakenham, The Baltimore Sun

"Magical. . . . A love story, a war story, and a story about stories, and so it hits the heart, the guts and the brain." —The New York Observer

"Luminous. . . . McEwan's writing has often made me blink, but never before blink with emotion. . . . [McEwan] is at one with his talent." —Robert Cremins, Houston Chronicle

"Atonement can't be laid down once it's been picked up. . . . [McEwan] can write rings around most others writing in English today." —The Weekly Standard