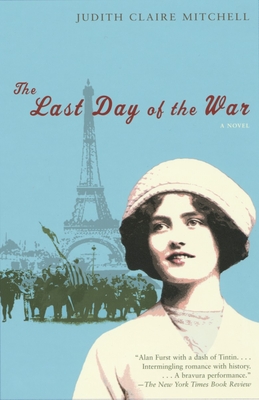 The Last Day of the War (Paperback)
Anchor Books, 9780385722018, 384pp.
Publication Date: June 14, 2005
* Individual store prices may vary.
or
Not Currently Available for Direct Purchase
Description
Yael Weiss, eighteen years old and looking for adventure, finds it in the library one day when she discovers a packet of guns meant for Erinyes, an Armenian organization set on avenging their people's massacre by the Turks in 1915. While the weapons make her nervous, Dub Hagopian, the young Armenian-American soldier sent to retrieve them, excites her in a completely different way.Smitten, Yael impulsively follows Dub to France by volunteering with the YMCA, reinventing herself along the way as twenty-five-year-old Methodist Yale White. When she and Dub cross paths again, Yael gets caught up in a crowd bursting with both the passionate ideals and the devil-may-care energy of youth-with consequences neither of them could ever foresee.
About the Author
Judith Claire Mitchell is a graduate of the Iowa Writers' Workshop and a recipient of a James Michener/Copernicus Society of America Fellowship. She was a James C. McCreight Fellow at the Wisconsin Institute for Creative Writing and currently teaches creative writing at the University of Wisconsin. She lives in Madison. Her Web site is www.judithclairemitchell.com.
Praise For The Last Day of the War…
"A bravura performance . . . Intelligent . . . blistering . . . ntermingling romance with history, [it's] Alan Furst with a dash of Tintin."–The New York Times Book Review"Mitchell captures Europe after World War I with a seasoned writer's appreciation for the timeless appeal of a lost world. . . . An engaging tale of humor and pathos and young love amid the rich tapestry of post-war France." —Seattle Post-Intelligencer"A sprawling, exciting love story. . . . This combination of love and war, history and revenge, makes for a thrilling read, one that lingers long after you finish it." --The Providence Journal"Engaging. . . . Page-turning. . . . The work of a very good novelist." --Chicago Tribune "When people say they love sinking into a great novel, The Last Day of the War is exactly the kind of book they crave. Judith Claire Mitchell's debut novel is an eloquent, sweeping, generous tale of war, love, history, deceit, and friendship, and it reads like the work of a seasoned novelist. Delicious, enveloping, and deeply affecting, The Last Day of the War is the kind of book that will be passed among readers for years to come." --Thisbe Nissen, author of The Good People of New York
"As satisfying as it is unpredictable. . . . . [An] assured first novel [that] neatly masters the historical novel's biggest challenge: It breaks through a potentially overwhelming tangle of events to focus on the actions of a few well-defined characters and uses them to illuminate a broader scene. . . . Fully developed [and] thoroughly believable." --Columbus Dispatch
"An extraordinary achievement: a book simultaneously full of humor and horror, both enthralling and poignant, and spilling over with heart." --Anthony Doerr, author of The Shell Collector"Mitchell seamlessly incorporates the political, social and cultural issues of the time, offering a novel as rich in historical detail as it is in character development. This is a meticulously crafted story." --Rocky Mountain News "A sweeping saga. . . . A captivating coming-of-age tale." --Madison Capital Times"Magnificent. . . . Subtle and elegant. . . . Judith Claire Mitchell has not only re-created 1918, she gives the reader intriguing characters. She also gives us a beautifully nuanced love story." —Desert Morning News
Advertisement