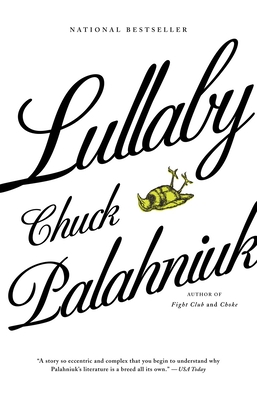 Lullaby
Paperback

* Individual store prices may vary.
Other Editions of This Title:
Digital Audiobook (1/6/2005)
Description
NATIONAL BESTSELLER • From the author of the New York Times bestseller Choke and the cult classic Fight Club, a cunningly plotted novel about the ultimate verbal weapon, one that reinvents the apocalyptic thriller for our times. 

"A harrowing and hilarious glimpse into the future of civilization." —Minneapolis Star-Tribune

Ever heard of a culling song? It's a lullaby sung in Africa to give a painless death to the old or infirm. The lyrics of a culling song kill, whether spoken or even just thought. You can find one on page 27 of Poems and Rhymes from Around the World, an anthology that is sitting on the shelves of libraries across the country, waiting to be picked up by unsuspecting readers.

Reporter Carl Streator discovers the song's lethal nature while researching Sudden Infant Death Syndrome, and before he knows it, he's reciting the poem to anyone who bothers him. As the body count rises, Streator glimpses the potential catastrophe if someone truly malicious finds out about the song. The only answer is to find and destroy every copy of the book in the country. Accompanied by a shady real-estate agent, her Wiccan assistant, and the assistant's truly annoying ecoterrorist boyfriend, Streator begins a desperate cross-country quest to put the culling song to rest.
Praise For Lullaby…
"A story so eccentric and complex that you begin to understand why Palahniuk's literature is a breed all its own." —USA Today

"Mr. Palahniuk further refines his ability to create parables that are as substantial as they are off-the-wall." —The New York Times

"That most rambunctious of American novelists, Chuck Palahniuk, is at it again. . . . There's so much comic energy, so much manic imagination, so much satirical fire on display." —Newsday

"Dark riffing on modernity is the reason people read Palahniuk. His books are not so much novels as jagged fables, cautionary tales about the creeping peril represented by almost everything." —Time

"Genius-on-sixteen-different-levels . . . constantly surprising, disturbingly funny . . . Genuinely subversive." —BookForum

"Among sick puppies, Palahniuk is the top dog. . . . A unique talent." —People

"More twisted than a sack of pretzels and edgier than an octagon, Chuck Palahniuk has pumped out another memorable read. . . This is his best yet." —Playboy

"Few writers this side of Kurt Vonnegut can summon up the intensity and precision to control such a blackly humorous situation. . . . Palahniuk is proving to be an accessible and ambitious writer of fables from the culture wars." —St. Petersburg Times

"Palahniuk conjures grief, confusion, mystery and fear from the unlikeliest sources . . . [and] teases amusement form the darkest corners of our culture." —The Sunday Oregonian

"By turns disturbing, creepy, sweet, sad, horrible and exquisite. . . . A harrowing and hilarious glimpse into the future of civilization." —Minneapolis Star-Tribune

"[Palahniuk] knows how to spin whacked-out stories particular to our times. . . . Employs a playfully perverse wit and a good eye for repellent details." —The Seattle Times

"Twisted and nihilistic . . . The novel packs a dark comic wallop." —Daily News

"A darkly twisted yarn. . . Palahniuk has succeeded in crafting a story that is taut and compelling, insightful and scathing, deeply disturbing and deeply disturbed." —CNN.com

"Deliriously rich in ideas and entertaining in its stream-of-consciousness riffing." —Book

"Outrageous, darkly comic fun."—Kirkus Reviews (starred)

"This is vintage Palahniuk: weird, creepy, twisted, upsetting, and ultimately a great read."—Library Journal

Anchor, 9780385722193, 272pp.
Publication Date: July 29, 2003
About the Author
CHUCK PALAHNIUK is the author of fourteen novels—Beautiful You, Doomed, Damned, Tell-All, Pygmy, Snuff, Rant, Haunted, Diary, Lullaby, Choke, Invisible Monsters, Survivor, and Fight Club—which have sold more than five million copies altogether in the United States. He is also the author of Fugitives and Refugees, published as part of the Crown Journey Series, and the nonfiction collection Stranger Than Fiction. He lives in the Pacific Northwest. Visit him on the web at chuckpalahniuk.net.