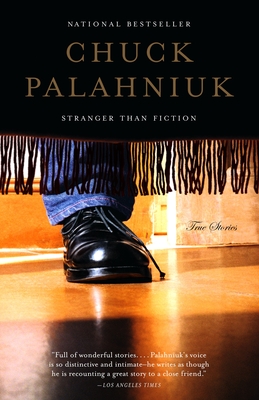 Stranger Than Fiction (Paperback)
True Stories
Anchor, 9780385722223, 256pp.
Publication Date: May 10, 2005
Other Editions of This Title:
Hardcover (6/1/2004)
* Individual store prices may vary.
Description
Chuck Palahniuk's world has always been, well, different from yours and mine. In his first collection of nonfiction, Chuck Palahniuk brings us into this world, and gives us a glimpse of what inspires his fiction.At the Rock Creek Lodge Testicle Festival in Missoula, Montana, average people perform public sex acts on an outdoor stage. In a mansion once occupied by The Rolling Stones, Marilyn Manson reads his own Tarot cards and talks sweetly to his beautiful actress girlfriend. Across the country, men build their own full-size castles and rocketships that will send them into space. Palahniuk himself experiments with steroids, works on an assembly line by day and as a hospice volunteer by night, and experiences the brutal murder of his father by a white supremacist. With this new direction, Chuck Palahniuk has proven he can do anything.
About the Author
CHUCK PALAHNIUK is the author of fourteen novels—Beautiful You, Doomed, Damned, Tell-All, Pygmy, Snuff, Rant, Haunted, Diary, Lullaby, Choke, Invisible Monsters, Survivor, and Fight Club—which have sold more than five million copies altogether in the United States. He is also the author of Fugitives and Refugees, published as part of the Crown Journey Series, and the nonfiction collection Stranger Than Fiction. He lives in the Pacific Northwest. Visit him on the web at chuckpalahniuk.net.
Praise For Stranger Than Fiction: True Stories…
"Full of wonderful moments...Palahniuk's voice is so distinctive and intimate--he writes as though he is recounting a great story to a close friend." --Los Angeles Times
"Step into Palahniuk's dark worldview and watch for what crawls out. These stories are true to him and no one else." --The Oregonian
"One of the oddest and most oddly compelling collections to come along for some time." —The Milwaukee Journal Sentinel
"In Chuck Palahniuk's world, the ride is fast, often disturbing, and there is never any holding back." —The New Orleans Times-Picayune
"Eccentric, idiosyncratic, and often entertaining." —The Onion
"Priceless grace notes from an exceptionally droll and sharp-eyed observer." --The New York Times
"Rarely does a collection of essays continually resonate with a main theme and accumulate a weight that would lead you to call it a great book. . . . This is a pretty great book." —The Seattle Times
"The book's lurid appeal rests largely on being let in on Palahniuk's secrets, the raw material for much of his fiction. . . . Acts that give spice to his novels are made more menacing when encountered in the real world." --Black Book