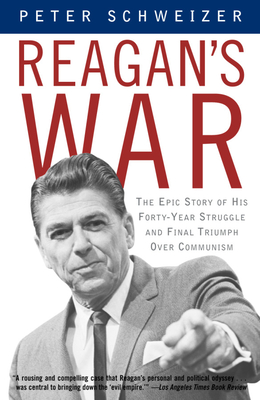 Reagan's War: The Epic Story of His Forty-Year Struggle and Final Triumph Over Communism (Paperback)
The Epic Story of His Forty-Year Struggle and Final Triumph Over Communism
Anchor Books, 9780385722285, 372pp.
Publication Date: October 21, 2003
Description
Reagan's War is the story of Ronald Reagan's personal and political journey as an anti-communist, from his early days as an actor to his years in the White House. Challenging popular misconceptions of Reagan as an empty suit who played only a passive role in the demise of the Soviet Union, Peter Schweizer details Reagan's decades-long battle against communism. Bringing to light previously secret information obtained from archives in the United States, Germany, Poland, Hungary, and Russia--including Reagan's KGB file--Schweizer offers a compelling case that Reagan personally mapped out and directed his war against communism, often disagreeing with experts and advisers. An essential book for understanding the Cold War, Reagan's War should be read by open-minded readers across the political spectrum.
About the Author
Peter Schweizer is a fellow at the Hoover Institution on War, Revolution and Peace at Stanford University. His previous books include The Fall of the Wall: Reassessing the Causes and Consequences of the End of the Cold War, The Next War, coauthored with Casper Weinberger, Victory, and Friendly Spies. He lives in Florida with his wife and children.
Praise For Reagan's War: The Epic Story of His Forty-Year Struggle and Final Triumph Over Communism…
"A rousing and compelling case that Reagan's personal and political odyssey...was central to bringing down the 'evil empire.'" —Los Angeles Times Book Review

"On the big picture, Schweizer is correct: Reagan had it right." —Newsweek

"Masterful. . . . After Schweizer, even inveterate Reagan-haters will have to abandon the picture of an amiable dunce drifting passively while a handful of advisers set the agenda." —Foreign Affairs

"A fascinating, well-written, useful and important look at one of the three or four most important American political leaders of the 20th century. No serious assessment of the 40th president of the United States can ignore the central importance of anti-communism in his career; after Schweizer, none will." —The Washington Post Book World

Advertisement