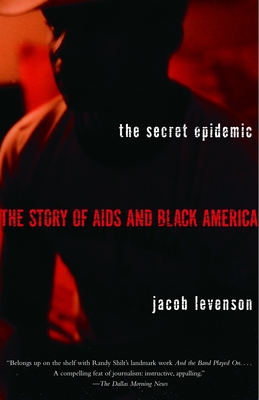 The Secret Epidemic: The Story of AIDS and Black America (Paperback)
The Story of AIDS and Black America
Anchor Books, 9780385722346, 307pp.
Publication Date: February 8, 2005
* Individual store prices may vary.
or
Not Currently Available for Direct Purchase
Description
Half the people in the United States who are diagnosed with HIV are now African American. Through the eyes of those on the front lines of the crisis, journalist Jacob Levenson tells a story of race and public health that spans fifty years and reveals how AIDS has become one of the leading killers of young black men and women. Medical researcher Mindy Fullilove investigates the epidemic's links to crack cocaine, the Bronx fires, and national health policy. Desiree Rushing must reconcile her crack addiction and HIV infection with the fate of her city, family, and the black church. David deShazo, a white AIDS worker in Alabama, fights to prevent the American South from becoming the epidemic's new epicenter. And Mario Cooper, a gay, infected son of the black elite confronts the boundaries of American race politics in Washington, D.C. Seamlessly interweaving personal stories with national policy, Levenson indelibly captures this devastating epidemic and illuminates its potential to expand our understanding of race in America.
About the Author
Jacob Levenson has written about AIDS for Vibe, The Oxford American, and Mother Jones, and he received a grant from the Open Society Institute to work on this book. Levenson studied at the University of California, Berkeley, and he received a master's degree in journalism from Columbia University. He lives in Brooklyn.
Praise For The Secret Epidemic: The Story of AIDS and Black America…
"Belongs up on the shelf with Randy Shilts's landmark work And the Band Played On. . . . A compelling feat of journalism: instructive, appalling."–Dallas Morning News

"Sensitively rendered. . . . Artfully threads together the ways in which this horror came to be. . . . [An] important book." –The New York Times Book Review

"It is not easy to write a book that convincingly explains why we should care about a particular crisis. But Jacob Levenson has done exactly that. . . . [He] has not only described AIDS and its shattering effects, but helped us imagine how the epidemic felt to real people." –Newsday

"Ambitious. . . couldn't come at a more important moment." –The Seattle Times

"It's an ambitious aim for any journalist to tell the larger political story alongside the personalized human one. But to manage it gracefully, moving among so many players and their respective positions, is a particular accomplishment . . . . Arresting." –The New York Times Book Review

"Thoroughly researched and well-written ... convincing and nuanced ... important reading for people interested in gaining insight into AIDS in the 21st Century." –Chicago Tribune

"Levenson broadens the view of the U.S. epidemic. . . A fascinating history. . . . Reads like a thriller, intricately weaving tales of individual characters." –Baltimore Sun

"Like Randy Shilts in his groundbreaking And the Band Played On, Levenson writes in an informal, narrative style that concentrates on stories of individuals. . . . Levenson manages not only to tell us about these people, but to get inside their minds and hearts as well. . . . An important read, and a book that should be read by everyone in this country who is concerned about the AIDS epidemic." –Baltimore Gay Life

"Levenson doesn't use numbers to tell the story of AIDS in black America. Instead, he writes of lives touched by AIDS." –Chicago Sun-Times

"An unflinching account that combines first-rate reporting and comprehensive research. . . . A must-read." –Tucson Citizen

"Through the stories of these characters–told delicately and yet powerfully, with a mastery of language, imagery and pacing surpassing that of many novels, let alone works of nonfiction–we engage much more profoundly with the issues that shape this epidemic than we ever could with a simple policy book." –Salon

"The importance of this book at this critical juncture cannot be underestimated. . . . The Secret Epidemic promises to open up the range of the public's vision and also public discourse on this public and private health crisis facing the African American community and, indeed, the country as a whole." –Henry Louis Gates, Jr.

"Offers rich detail on how stigma can still compel people to die silently rather than seek adequate treatment." –Out

"Reading more like a novel than an academic study, Levenson's book sheds light on how dramatically the AIDS crisis is devastating the black community and how that community still struggles with how best to confront the issue." –Detroit Metro Times

"A must-read. . . . A compelling, impassioned, and deeply humane work of writing and . . . an urgent, necessary alarm for anyone who thinks the AIDS epidemic in America has been tamed. Think of this book as the sequel to Randy Shilts's And the Band Played On--the arrival of a major author with a hugely important story to tell." –Samuel G. Freedman

"Levenson forces us to face our own indifference to suffering. He explores the roots of that indifference and reminds us that ignoring distasteful facts merely exacerbates the consequences." –Colorado Springs Independent

"Thoroughly researched, articulate presentations of facts in terms that are both human and broadly epidemiologic. . . . There is a cool ferocity to Levenson's prose. The narrative is simple and straightforward. He doesn't get in the way of his storytellers." –The Plain Dealer


Advertisement