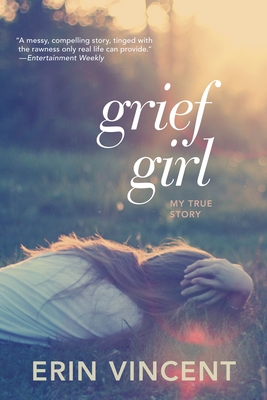 Grief Girl: My True Story (Paperback)
My True Story
Delacorte Press, 9780385733861, 306pp.
Publication Date: November 11, 2008
Description
It's just another October day until Erin's parents are hit by a speeding tow truck. Mom dies instantly. Dad dies one month later, after doctors assure Erin he's going to make it. Now Erin and her sister are left to raise their baby brother--and each other.
This is Erin Vincent's gripping true story of how one moment tears a family apart and how love and strength come together to rebuild what was lost.
Grief Girl
will break your heart and then fill you with hope, time and time again.
About the Author
Erin Vincent has worked as a journalist, a fashion designer, a theater actress, a photographer's assistant, a tailor to the stars, and a bartender, and has served meat pies and mushy peas late at night from a roadside van in Sydney. She now spends her days (and nights) as a writer and a youth counselor. Erin divides her time between her hometown of Sydney, Australia, and Los Angeles. She lives with her artist husband, Adam Knott (aka Adam James K), a one-eyed goldfish named Reginald, and a sweet little cat named Foofee. Sadly, her beloved pet crab Charlie died after sticking around long enough to help her get through the writing of Grief Girl. RIP, Charlie.
Praise For Grief Girl: My True Story…
"After any death, there is bound to be searing anger as well as grief. In this amazing tale of woe, venality, treachery, larceny and plain old-fashioned abuse, Erin Vincent tells the story of her parents' death, and the harrowing Dickension fallout which then ensued. GRIEF GIRL is a story of righteous indignation, bruising sorrow but a final triumph that has you cheering for this wonderful woman by the end."
-Carolyn See

"A gripping memoir . . . glimpses of humor amid tragedy make this a pageturner."—School Library Journal

"Any adolescent going through the grieving process will tearfully embrace her book."—Booklist

"Intimate, honest narrative."—Publishers Weekly
Advertisement