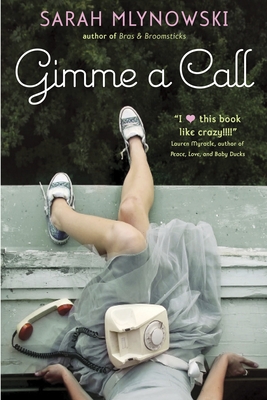 Gimme a Call (Paperback)
Ember, 9780385735896, 301pp.
Publication Date: May 24, 2011
Description
Who better to take advice from than your future self? This hilarious novel from the author of Ten Things We Did (And Probably Shouldn't Have), Don't Even Think About It, and the Magic in Manhattan series is sweet, entertaining, and all-too-relatable. A new life is just a phone call away Devi's life isn't turning out at all like she wanted. She wasted the past three years going out with Bryan--cute, adorable, break-your-heart Bryan. Devi let her friendships fade, blew off studying, didn't join any clubs . . . and now that Bryan has broken up with her, she has nothing left. Not even her stupid cell phone--she dropped it in the mall fountain. Now it only calls one number . . . hers. At age fourteen, three years ago Once Devi gets over the shock--and convinces her younger self that she isn't some wacko--she realizes that she's been given an awesome gift. She can tell herself all the right things to do . . . because she's already done all the wrong ones Except . . .what if getting what you think you want changes everything? "Mlynowski is in peak form: an outrageous concept, plot jammed with twists, a laugh on every page, and a heroine -- no, two heroines in one -- you completely connect with." --E. Lockhart, New York Times bestselling author of Genuine Fraud and We Were Liars "Read this fast-paced, absorbing, and sweet story to find out what happens when senior-year wisdom meets starry-eyed freshman dreams " --Melissa de la Cruz, New York Times bestselling author of The Isle of the Lost, Blue Bloods, and Alex and Eliza "A warm, wonderful (and hilarious ) story about learning to be your own hero. I ♥ this book like crazy " --Lauren Myracle, New York Times bestselling author of TTYL and Twelve
About the Author
SARAH MLYNOWSKI is the author of the Magic in Manhattan and Whatever After series, as well as Don't Even Think About It, Gimme a Call, Ten Things We Did (and Probably Shouldn't Have), Milkrun, and more. Her books have been translated into more than twenty languages. Sarah was born in Montreal but lives and writes in New York City. You can visit her online at sarahm.com and follow @sarahmlynowski on Twitter and Instagram.
Advertisement