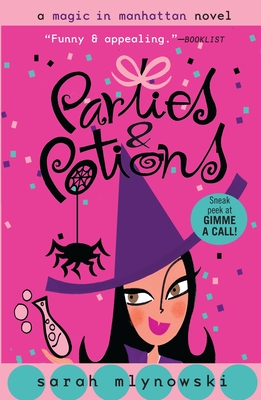 Parties & Potions (Paperback)
Delacorte Press, 9780385736466, 340pp.
Publication Date: February 9, 2010
Description
The fourth novel in Sarah Mlynowski's Magic in Manhattan series Perfect hair, cute clothes, healthy tans--life's a breeze when you're a witch Even special witchcraft classes Rachel agrees to attend with Miri turn out to be fun. The sisters meet other teen witches just like them--who knew? Everyone's preparing for a magical party called a Samsorta--a debutante ball for witches. And it wouldn't be a ball without warlocks. Cute ones. Like Adam, who wants to slow dance with Rachel, and ski with her in the Rockies--on a school night Of course, Rachel is madly in love with her boyfriend, Raf. So why can't she bring herself to tell Adam--funny, charming Adam--that Raf exists? Rachel knows Raf likes her. Maybe even, gulp, loves her. But Raf doesn't know her secret. Unlike Adam, Raf doesn't know who she really is. And she can never tell him. Or can she?
About the Author
Sarah Mlynowski is a New York Times bestselling author of numerous novels, including Bras & Broomsticks, Frogs & French Kisses, Spells & Sleeping Bags, Parties and Potions, Gimme a Call, Don't Even Think About It and the Whatever After series. She spent nine summers at sleep-away camp, where she enjoyed campfires, color wars, and conjuring up excuses to get out of swimming lessons. She now lives and writes in New York City. Visit her at sarahm.com and follow @sarahmlynowski on Twitter.
Advertisement