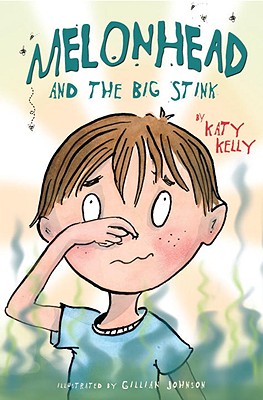 Melonhead and the Big Stink (Hardcover)
Delacorte Press, 9780385736589, 216pp.
Publication Date: June 8, 2010
* Individual store prices may vary.
or
Not Currently Available for Direct Purchase
Description
Melonhead is back in action, filled with curiosity, stirring up a little trouble (even though he doesn't mean to), and determined to have a summer of fun In this second book in the Melonhead chapter book series, Melonhead is still pals with Lucy Rose, but he's not going to Parks & Rec camp this summer. He ruined one of Mrs. Wilkins's favorite garden plants, so his parents have "loaned" him to her to do chores. This is going to mess up his summer plans if he doesn't figure something out. He and Sam need to find a way to get to New York City to see the titan arum "bunga bangkai" plant. It's supposed to be twelve feet tall, weigh a hundred pounds, and smell like dead mammals, plus rot, plus spoiled food. It only blooms once every seven years, and even then only for two days and then it keels over dead. It's the Big Stink of a Lifetime But Melonhead has to get a few more good deeds out of the way first, and doing chores for Mrs. Wilkins is a good start, even if it wasn't in the plan to begin with.
About the Author
About the Author Katy Kelly is also the author of the hilarious Lucy Rose chapter book series. She lives in Washington, D.C. About the Illustrator Gillian Johnson is a UK-based author and illustrator. She lives in Oxford, England.
Advertisement