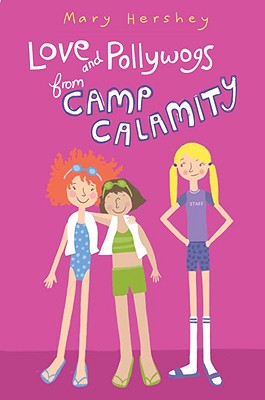 Love and Pollywogs from Camp Calamity
Hardcover

* Individual store prices may vary.
Other Editions of This Title:
Paperback (6/14/2011)
Description
Camp Wickitawa, here we come!
Mary Hershey's third book about fourth grader Effie Maloney is a hilarious Texas adventure, complete with a camp ghost, swim lessons, rescued armadillos, campfires, and cowgirl stew.

Effie has been waiting forEVER for St. Dom's special fourth-grade camp. Could there be anything more thrilling than an entire week with her two best friends? But when her big sister Maxey (Bosszilla) ends up working there, Camp Oh-So-Perfect turns into Camp Calamity. And Effie has to figure out how to hide the fact that she's not, um, the greatest swimmer. She can't even float. But she better learn fast, because she just HAS to be named Outstanding Camper of the Week and win back her family's good name! (And she is N-O-T homesick. Completely and totally not even.)
Wendy Lamb Books, 9780385737449, 224pp.
Publication Date: June 8, 2010
About the Author
Mary Hershey has a number of "fond "memories from Camp Talaki, which now rests at the bottom of a big lake not too far from her home. She swears she had nothing to do with that! What she loved best about camp was her afternoon snack, reading, getting benched from swim class, and mail call, because she never gave up hope that her mom would send her a one-way bus ticket home. (She did send marshmallows, and an encouraging note.) Mary Hershey loves writing about the stuff she was forced to endure enjoyed when she was in middle school. She is the author of two other books about Effie Maloney: "My Big Sister Is So Bossy She Says You Can't Read This Book" and "10 Lucky Things That Have Happened to Me Since I Nearly Got Hit By Lightning." She lives in Santa Barbara, and still loves a good afternoon snack. To learn more about Mary Hershey, visit her on the Web at www.maryhershey.com.
or
Not Currently Available for Direct Purchase