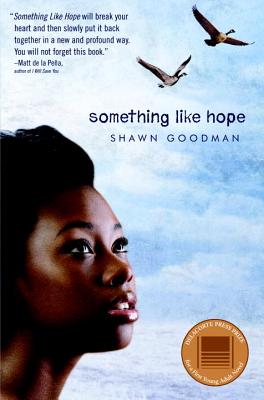 Something Like Hope (Hardcover)
Delacorte Books for Young Readers, 9780385739399, 208pp.
Publication Date: December 28, 2010
Other Editions of This Title:
Hardcover (12/28/2010)
* Individual store prices may vary.
Description
Seventeen-year-old Shavonne has been in juvenile detention since the seventh grade. Mr. Delpopolo is the first counselor to treat her as an equal, and he helps her get to the bottom of her self-destructive behavior, her guilt about past actions, and her fears about leaving the Center when she turns eighteen. Shavonne tells him the truth about her crack-addicted mother, the child she had (and gave up to foster care) at fifteen, and the secret shame she feels about what she did to her younger brother after her mother abandoned them. Meanwhile, Shavonne's mentally unstable roommate Cinda makes a rash move, and Shavonne's quick thinking saves her life—and gives her the opportunity to get out of the Center if she behaves well. But Shavonne's faith is tested when her new roommate, mentally retarded and pregnant Mary, is targeted by a guard as a means to get revenge on Shavonne. As freedom begins to look more and more likely, Shavonne begins to believe that maybe she, like the goslings recently hatched on the Center's property, could have a future somewhere else—and she begins to feel something like hope.

This is a brutally honest but hopeful story of finding yourself and moving beyond your past.


From the Trade Paperback edition.
About the Author
SHAWN GOODMAN worked at several facilities like the Center in Something Like Hope. This is his first novel. 


From the Trade Paperback edition.
or
Not Currently Available for Direct Purchase