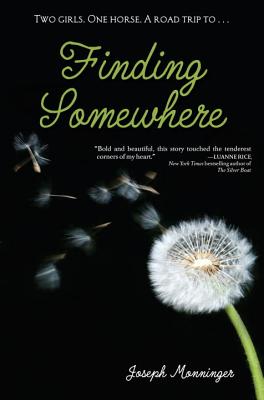 Finding Somewhere (Hardcover)
Delacorte Books for Young Readers, 9780385739429, 240pp.
Publication Date: November 8, 2011
* Individual store prices may vary.
or
Not Currently Available for Direct Purchase
Description
Two girls: Best friends Hattie and Delores feel that life in their small New Hampshire town is a dead end.
One horse: Old and about to be put down, Speed gets a reprieve when Hattie and Delores decide to save him.
A road trip: Determined to set Speed free, Hattie and Delores drive him west in search of rangeland. But the road takes some unexpected turns as the girls get their own taste of freedom—and as they confront the reasons they left home.
About the Author
JOSEPH MONNINGER has published 11 novels and three nonfiction books for adults. Recently he cowrote "The Letters" with bestselling author Luanne Rice. His previous YA novels are "Wish, Baby, " and "Hippie Chick."
Praise For Finding Somewhere…
Starred Review, Kirkus Reviews, October 15, 2011
Two teenage girls and a noble, aged horse on a road trip. What could beat that?
Sixteen-year-old Hattie, in an expressive, quirky yet pitch-perfect first-person voice, provides the flowing narrative, as she steals Speed, an ancient horse scheduled to be put down the following autumn morning (merely to prevent the possibility of a difficult winter burial) and heads west with her best friend, Delores. She's an emotionally fragile 18-year-old, rejected by her boyfriend-focused mother, and needs a rescue almost as badly as the horse. Their goal is to find free range for Speed, offering him the opportunity, for once in his life, to just be a horse—free, not plodding around a carnival ring. Along the way they encounter other horse lovers, most notably Julie, an elderly woman who just wants to share a few heart-wrenching moments with patient Speed; Fry, a Minnesota double amputee with plenty of land and a big heart; and Punch, a handsome young rodeo rider who loves both horses and Hattie. Monniger's writing is delicious, evocative and, especially during horse-focused scenes, moving.
Horse story, road trip, coming-of-age tale: It's any and all of these, but mostly a tender and authentic voyage into the mind of a wise, funny and wholly likable protagonist. (Fiction. 11 & up)
Advertisement