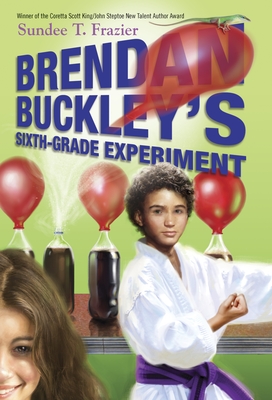 Brendan Buckley's Sixth-Grade Experiment (Paperback)
Yearling, 9780385740517, 288pp.
Publication Date: January 8, 2013
* Individual store prices may vary.
Description
Brendan Buckley's headed to middle school, and he has some big questions! Can he keep his new pet anole, Einstein, alive? Will his tough-as-rock Grandpa Ed and sharp-witted grandma, Gladys, butt heads or become friends? Most importantly, what will he propose for the national science competition his class is entering?

Then Brendan's alternative energy idea gets him paired with Morgan Belcher, a talkative, formerly homeschooled girl, whose eyes sparkle whenever Brendan is around. Though skeptical, Brendan decides to give Morgan a chance, and they embark on their project—a methane-producing experiment involving beakers, balloons, and the freshest cow manure they can find.

As Brendan spends more time on the experiment and faces new challenges, his big questions get even bigger: Will he and Khalfani always be best friends? Does Dad really think he's a science-nerd wimp? 
About the Author
SUNDEE T. FRAZIER is the author of award-winning Brendan Buckley's Universe and Everything in It and the highly acclaimed The Other Half of My Heart.
Praise For Brendan Buckley's Sixth-Grade Experiment…
School Library Journal, January 1, 2012:
In this sequel to Brendan Buckley's Universe and Everything in It (Delacorte, 2007), Brendan looks at everything as a scientist does, from his rock crystals to his experiments and his pet anoles. He keeps a "log" that he refuses to call a diary. He tracks his scientific findings and his feelings about the social world of middle school. He meets a new girl at his grandfather's geology club who is also a scientist. While she seems okay at geology club, he is not sure he wants to be her friend at school. He has his guy friends to worry about and does not want to be teased about her. Young readers will have plenty to relate to here. Brendan falls out with friends, has romance issues, faces the loss of a pet, and is constantly trying to impress his imposing father. On top of that, his family is preparing to adopt a baby, which adds plenty of stress to the household. The boy is biracial, and his grandmother calls him her "milk chocolate." The characters are well developed and the story is realistic. The back of the book is filled with scientific facts about biomass and anoles. Children will enjoy the ups and downs of Brendan's sixth-grade year and wait eagerly for his future exploits.

Kirkus Reviews, December 1, 2011:
A few months older and proud owner of Einstein, a small, green anole, the eponymous budding scientist of Brendan Buckley's Universe and Everything In It, winner of the 2007 Coretta Scott King/John Steptoe New Talent Award, returns to grapple with new challenges in this likable sequel.

Last seen, Brendan had reclaimed his estranged grandfather, helping to heal the longstanding family rift arising from his parents' interracial marriage. Entering middle school, Brendan's goals are more universal and more daunting: negotiating puberty and fitting in with his peers. Complicating matters is his equally science-minded classmate Morgan, who has a major crush on him. Paired with her for a science project (cow poop is central), Brendan worries their friendship will alienate his guy friends. His parents have their own obsessions—gaining official approval to adopt a baby (Mom) and carving time from work to earn a college degree (Dad). Middle schoolers and science projects make for enjoyably combustible fiction, as Greg Leitich Smith demonstrated in Ninjas, Piranhas, and Galileo (2003). Underlying Frazier's light and humorous tone lies a serious question science can't answer: Why does Dad focus only Brendan's martial-arts training, ignoring his scientific achievements? The role of racism and family history is key in shaping these multifaceted characters, but it is largely left for readers to infer.

Events may be less dramatic than realistically nuanced, and pacing is relaxed, but appealing Brendan should keep readers fully engaged.