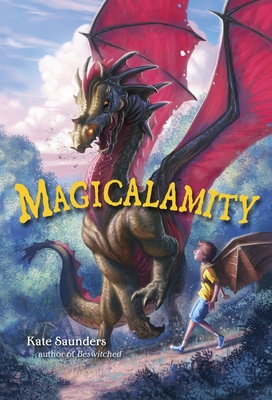 Magicalamity (Paperback)
Yearling, 9780385740784, 320pp.
Publication Date: December 10, 2013
Other Editions of This Title:
Hardcover (12/11/2012)
Paperback (2/1/2011)
Library Binding (12/11/2012)
* Individual store prices may vary.
Description
This action-packed, adventure from the author of The Whizz Pop Chocolate Shop is a magically good time! 

Tom is in shock. He's just discovered that his dad is an escaped fairy on the run. And that he must trust his life to three dangerous fairy godmothers he's never met. Two of them are hardened criminals, and one falls out of the window when she tries to fly . . .

Will their mad magic be enough to help Tom rescue his dad from the clutches of some killer fairies?

Praise for Magicalamity
 
★ "[Children] will love this action-packed adventure, brimming with sly humor and clever asides….This book should fly off the shelves, with or without a magic carpet."—SLJ, Starred Review
 
"A quick, magical romp."—The Bulletin
 
"Saunders weaves a tight tale with a satisfying conclusion." —Booklist
About the Author
KATE SAUNDERS has written lots of books for adults and children. She lives in London with her son and her three cats.
Praise For Magicalamity…
Praise for Kate Saunders

Praise for Magicalamity
 
★ "[Children] will love this action-packed adventure, brimming with sly humor and clever asides….This book should fly off the shelves, with or without a magic carpet."—SLJ, Starred Review
 
"A quick, magical romp."—The Bulletin
 
"Saunders weaves a tight tale with a satisfying conclusion." —Booklist

Five Children on the Western Front

Winner of the Costas Award for Children's Fiction
 
★ "An irresistible read."—Publishers Weekly, Starred Review

"Skillful and deeply moving." —The Guardian

"A rewarding experience."—Booklist

"Saunders strikes a surprisingly successful balance between the mischievous magic of the sand fairy and the harsh realities of wartime England." —The Bulletin

"A dramatic, heartrending look at World War I's far-reaching consequences for families and individuals."—SLJ
 
The Curse of the Chocolate Phoenix
 
"Saunders weaves the supernatural with the ordinary with ease. Readers who enjoyed The Whizz Pop Chocolate Shop will not be disappointed."—Booklist
 
"Clearly, Saunders has honed her deft and breezy comic style while affectionately channeling mild echoes of Harry Potter and The Hobbit."—Kirkus Reviews
 
"Saunders's imagination is out in full force. Hand this to readers who love adventure, fantasy, and Mission Impossible–type adventure."—SLJ
 
The Whizz Pop Chocolate Shop
 
"This story has adventure, excitement, humor and magic, and will appeal to boys and girls alike."—SLJ
 
"Reminiscent of Roald Dahl's Charlie and the Chocolate Factory."—Booklist

"A quick pace and intricate plot twists keep excitement high . . . [in] this enjoyable and moving romp through a magical London underworld."—Publishers Weekly
 
Beswitched
 
A Junior Library Guild Selection
 
★ "This absorbing novel…features a dimensional, delightful protagonist, whose personality and growth ring true....Along with the entertaining magical elements, the universal themes of self-discovery, and looking beyond appearances combine into a wholly engaging and enjoyable read."—Booklist, Starred Review
 
"Saunders offers a coming-of-age tale against the rich backdrop of full period detail . . . [It] will charm readers."—Publishers Weekly
 
"A ripping English boarding-school story with a perceptive heroine and time-travel twist guaranteed to appeal to modern schoolgirls."—Kirkus Reviews